Alabama Community Tries To Draw Jewish Families
Alabama Community Tries To Draw Jewish Families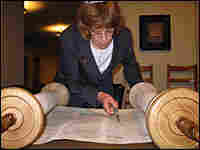 The Paperwork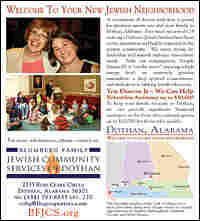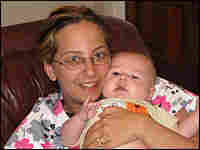 So, what do you do when you're a small community and families are moving away? If you're the Jewish community in Dothan, Ala., you offer qualified candidates up to $50,000 to relocate to your small Southern city. It started with ads in Jewish newspapers across the country, and now, more than 2,000 people have called or e-mailed about the offer. And the first family has just moved to town.
Dothan is not a big city, but it's not quite a small town either. The city of about 60,000 is a transportation crossroads located in the southeastern part of the state near Fort Rucker and about 100 miles from Florida beaches. In the downtown area, there are an art museum, a restored opera house and the colorful murals for which the town is famous. But most of all, people here say it's a good place to raise a family.
"I think Dothan has really not been discovered the way that I think it can be," says Larry Blumberg, who took the lead and put up $1 million over the next 10 years in an ambitious effort to bring 20 new families to town.
Blumberg is a real estate developer and a member of the only temple in this predominantly Christian area. He says the synagogue had been losing families since the early 1970s.
"As recently as three years ago, I think we had about 40 families," says Blumberg. "I thought to myself, 'What can we do to bring people here? Something that would really be compelling,' and that's what we've tried to do," he says.
Changing Dynamics
Dothan's story is not so different from other rural towns where Jewish families settled as peddlers. Many opened in tents, which grew into small shops and eventually department stores — that is, until big box retailers came along.
"These mom and pop stores and small businesses were absolutely steamrolled by Wal-Mart," says Eli Evans, who has written three books on Jews in the South. "When those giant stores come with plenty of parking and everything you need — took their clientele away from them and it's happened, you know, all across the South."
Young people left small towns both for economic reasons and to find a dynamic Jewish community, according to Evans. Dothan is now hoping some of those families will return. It's a simple but rather unusual offer — if you're a young Jewish family with children, you may get up to $50,000 to pay for moving costs, education loans and other expenses if you decide to relocate to Dothan.
The First Family In Town
Michele Reed cuddles her 3-month-old baby, Sam, after getting home from work. She got a job as a medical assistant at one of Dothan's hospitals.
She and her husband, Matthew Reed, are the first family in the Blumberg relocation project, and they know Alabama well. They grew up in the state and after living in North Carolina wanted to move back. Michelle's parents were even married in the Dothan temple. So the offer of help from the Jewish community came at just the right time.
"It's been hectic. It's been fast-paced, but it's been exciting," Matthew says.
Michelle says the people at the temple are welcoming and so nice. "We wanted to raise our kids Jewish, and we thought this would be a good way to do it," she says.
Matthew just got out of the Army and landed a job as an aircraft mechanic in Dothan. Now, after he gets home from work, he plays with his 2-year-old son, Ayden, launching cars on a dinosaur racetrack. It's been a whirlwind experience for this family since last September when they first heard about the offer.
"We kind of had to take a step back and question it a little bit and make sure it was something legitimate and it is. And here we are," Matthew says.
'A Community Like No Other'
Mayor Pat Thomas says he hopes that people all over the country who hear the story about the Jewish community in Dothan will learn more about the city. He says the program has brought national attention to the city, but most people realize that attracting families won't happen overnight.
"Oh, there were some people that were talking about converting, but that's just not the way it works," Thomas says. "This is recruiting quality families who are going to add to this community, and that's the aim of the Jewish community and synagogue right now. That's also our aim as well."
The process involves extensive interviews, a background check and even a home visit. If families stay less than five years, they will have to repay some or even all of the money.
Lynne Goldsmith, who nearly two years ago became rabbi of Temple Emanu-El, Dothan's Reform congregation, says a lot of northerners think, "Alabama — are you out of your mind?"
Goldsmith says living in Dothan is much different from what people might think about life in a southern Alabama town.
"They have this picture in their head — and I know I had it too — of George Wallace on the steps of that school not letting that little girl in, and the dogs and the riots in Birmingham," she says. "And you think of ignorance, you think of all the stereotypes — and it's not there. I mean Dothan, Ala., is — it's a community like no other."