A First-Timer At Augusta National Golf Club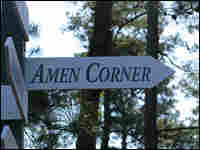 The world's most famous sports venues have an aura to them — Wimbledon is not just tennis; it's strawberries and cream. The old Yankee Stadium was not just a ball field; it was memories — some say ghosts — of Babe Ruth and Lou Gehrig.
But Augusta National Golf Club in Georgia may top them all.
It is a place so perfect in its beauty, so steeped in history and tradition. The golfers say it's special because, unlike other major tournaments, the Masters is always held at the same place. That builds history over the years — you compare your game to the greats who walked those same fairways and greens. Ben Hogan, Gene Sarazen, Byron Nelson, Sam Snead, Arnold Palmer.
The iron-fist rule by the people who run Augusta National guarantees the look and feel of the grounds. For its annual one week in the world spotlight in April, nary a blade of grass nor an azalea bush is out of place.
And so when you arrive at Augusta the first time — walking, since running isn't allowed — it's special. It's hair standing up on the back of your neck magical. It can even be annoying.
But it will always be that first time.
Amen, In Amen Corner
It's the pilgrimage within the pilgrimage. Step on the grounds at Augusta National, and you have to make a beeline — remember, no running — to golf's most famous three holes, which make up Amen Corner. The latter part of 11, all of 12, and the first part of 13. They create a V-shaped corner that veteran player Greg Norman, also a course designer, calls the most natural golf holes you can ever have.
It got its name after Arnold Palmer hit a series of shots there on the way to his first Masters championship in 1958. Amen Corner is the place buzzing, quietly, with fans snapping photos or simply staring at the kaleidoscope of colors and shapes: the deep green of the fairways, the white sand of the traps, the purple and pink bushes that ring the par-3 12th green. Oops, did I say fans? I meant "patrons." That's what they're called at Augusta.
So this week, I introduced myself to a group of first-time patrons (actually I took their picture for them) in exchange for a little Q & A. To my surprise and delight, the four men were of the cloth. Who better to speak of a place that inspires religious awe?
"It just reminds me of how the Scripture says the heavens declare the glory of God; not just the heavens but the Earth, too. It's amazing, the beauty of the place," the Rev. Mark Dooley, of Hollywood, Md., said.
"It's not just the visuals, but the other senses [here]," said the Rev. David Walkup from Melbourne Beach, Fla. "The smell of the pine straw. There's a sweetness to it. And a calmness. I think a whole lot of people here today are probably a whole lot calmer than they'd be at many, many other venues."
Before we parted, the four friends asked about my religious beliefs. They asked if I believed in Jesus. I said no, I'm Jewish. They mentioned the group Jews for Jesus, but I still politely declined. We shook hands and one of the men said, kindly, "I'll pray for you." That's probably not the first time that's been uttered at Amen Corner — albeit from caddie to golfer.
Help Me ... I've Qualified For The Masters!
For first-time players, the experience can be quite different. When you're a patron, outside the ropes, you can have your quiet reveries. Inside the ropes?
Listen to Danny Lee.
He's one of the more intriguing characters this week at Augusta. Born in South Korea, he emigrated to New Zealand as a boy. Now 18, the reigning U.S. Amateur champion, he is one of three teenagers playing the Masters. And in his halting English, he offered a glimpse of the terror that awaits those "lucky" enough to play.
"When I get nervous I can't really talk properly," Lee said. "I'm having a stomachache too. I'm serious. I'm trying to relax and calm myself every time but as soon as I go outside the clubhouse ... and watch all those crowds out there ... I cannot get relaxed and nice and calm like that. But I'm still working on it."
Buck up, Danny. It happens to the best of 'em. In 1981, Greg Norman was a rookie at Augusta, paired with a legend — Jack Nicklaus. Thanks for that, tournament officials! But Norman says the pairing ended up being a good thing:
"I remember walking down the bottom of the hill on the first hole with Jack, and he put his hand on my shoulder and said, 'I hope you're as nervous as I am,' " Norman said. "I said 'Whoa shit, thank God he said that!!' Jack was sending me a message: 'I'm nervous, I know you're nervous, calm down and let's just go play golf.' "
They did. Nicklaus finished in a tie for second. Norman right behind in fourth place.
Of course there are those freaks of nature (aka "Tiger Woods") who revel in that first-time experience.
"I remember teeing off on the first hole," Woods said this week. "It was just the coolest thing in the world."
We Will Not Discuss Club Policy
Different yet again is the experience of the first-time reporter.
We, too, come with our senses wide open, but we are also here to find out the truth. So while patrons marvel, we scour the grounds looking for the who, what, where, when, why and how of Augusta.
When we buy potato chips and bottled water at the concession stand we notice it's not Lays or Evian. It's Masters brand with the famous Masters logo — the yellow map of the United States with a golf flag stuck in a hole right at Augusta, Ga. Augusta National is all about controlling the environment — whether it's the products patrons buy, people's behavior on the grounds, or providing information to the media.
Most of what you need, you get from endlessly patient and friendly media helpers. But don't stray too far, or you'll get the infamous, "We will not discuss club policy."
(An aside: The men — yes, still only men — in green jackets do have a sense of humor. At the pre-tournament Tiger Woods press conference, one green-jacketed member asked his counterpart up on the dais with Woods, "How come you always get to host the Tiger Woods press conference?" To which the man replied, to everyone's delight, "I will not discuss club policy!")
Why does Augusta National still refuse to accept female members? "We will not discuss club policy."
How does the grounds crew, an army of men on lawn mowers with wheelbarrows, make this course so beautiful? Sorry — state secret.
I tested the defense one day — ambled up to an elderly member in a green jacket sitting in a golf cart: "Hello sir? Excuse me. You've got a green jacket. I'm with the press, I'm with NPR. Can you answer some questions about this beautiful golf course?"
"No," he replied. "No."
"Can't answer?" I asked.
"No. I'll refer you to the chairman," he said.
"To Mr. Payne?" I asked, referencing Masters Chairman Billy Payne.
"Yes," he responded. "We just don't do it. That's club policy."
"Can't answer how this place is made so beautiful?" I asked.
"Work," he said. "I can say that," he said. "Lotsa work."
But, with some digging, the information's out there. It's unconfirmed, but the lush appearance of the fairways is from overseeding with ryegrass. Every green has beneath it a machine that can both extract moisture and blow air to combat hot or cold weather.
Some things will remain a mystery to all except the green-jacketed members. A fellow reporter with many years of experience at Augusta says the way we'll find out there are, finally, female club members is that one day, a woman will be walking around in a green jacket.
No press conference, no trumpeting to the world. It's all on Augusta time.
That's the biggest lesson you learn as a first-timer. And never forget how ever many times you come back.
Tom Goldman will report on the Masters on Friday's Morning Edition.