With Jobs Scarce, Soldiers Re-Enlist
With Jobs Scarce, Soldiers Re-Enlist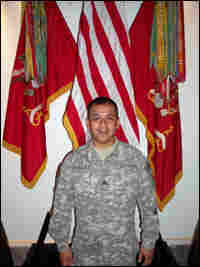 Daniel Lacy/Courtesy of Victor Vasquez
Staying In Touch
Follow David Greene as he travels the country, and help him find interesting stories along the way.
This recession is forcing U.S. military personnel into some hard decisions. When jobs are scarce, it's tougher to let go of that military paycheck and the benefits that come with it.
The Pentagon says that during economic downturns, it sees higher retention rates. And that's the case now.
As I was rolling along on my road trip — reporting on the economy during President Obama's first 100 days — I received an e-mail from U.S. Army Sgt. Victor Vasquez.
"I am currently deployed in Iraq, out of Ft. Riley, Kan.," he wrote. "I talk to many guys around here about what we will do when we get home. Many enlistment contracts will expire, but with the economy in such a state, it is very tempting to reenlist — even for many soldiers who did not plan on making this a career."
As soon as Vasquez wrote me, I set up a time to talk to him by phone. I was at a hotel in Iowa. He was in one of Saddam Hussein's former palaces in Baghdad.
Vasquez, who enlisted three years ago, said his field artillery unit is plugged into the news back home, well aware of the recession.
"A lot of the guys I work with have gone on leave recently, in the last month or two or three," he said, "And everyone comes home with their stories about how their families or friends back home are affected by stuff."
Home for Vasquez is San Francisco. He is first-generation American. His mother is from Guatemala; his father is from El Salvador. Vasquez was on his own leave several weeks ago, and he saw how the economy had hit his family. His sister had been laid off from her job as a systems analyst with The Gap, the clothing chain.
"To see her struggle and have to deal with that, was real eye-opening for me, and very much brought me back to where I realized how big a decision this was going to be, this re-enlistment decision," Vasquez said.
He really wants to come home when his contract is up this year. He wants to go to school and think about a new career.
But after seeing his sister's life derailed, he said, it's harder to give up that stable $32,000 salary. He and a lot of people around him face the same dilemma. Vasquez told me about a fellow soldier in Baghdad, Army Spc. Jeff Taylor.
Decision Time
Vasquez said he has watched Taylor lose sleep over the decision. Taylor told me that himself when he got on the phone with me from Baghdad the next day. He and his wife, who is at Fort Riley, Kan., have been mulling over their options.
"This past two weeks — staying up, discussing it with her," Taylor said. "What should I do? What do you want? Really making sure it's the right thing for us and we'll all be happy."
When we got on the phone, I hadn't realized Taylor had pretty much made up his mind.
"I am about to re-enlist," he said. "I'm signing up for six years."
Signing up now for six years — as opposed to three or four — brings Taylor a $12,000 bonus. If he put off the decision, the bonus amount could change, or not be offered at all. Taylor said signing on and securing that money is important for his wife and kids.
Job Security
"I know I'll have food at the table, money for what we need. We'll be taken care of. If we were to get out [of the Army] ... the economy — they're trying to stabilize it, but you don't know what's going on. I'm just not willing to gamble with that. It's a big gamble. And I'm not willing to take that risk," Taylor said.
Of course, there are risks in staying in the Army. Taylor has mostly avoided combat. He has been working in a mailroom in Baghdad. But he is part of a field artillery unit. And over the next six years, if he's in Iraq, or Afghanistan, he knows he could see combat. And he knows that could be hard for his family.
Home In Kansas
Taylor's family — his wife, Sarah, a 3-year-old son and a 7-month-old girl — live at Fort Riley, where both Taylor and Vasquez are based. As I set up my phone interviews with the two soldiers, I was driving in the direction of Kansas so I could visit the base.
Fort Riley stretches across the plains of east Kansas. There's an airport, office complexes and entire communities of military housing. I pulled into a subdivision of homes that's still being built, to visit the Taylor family.
Sarah Taylor, 23, just moved into a new three-bedroom house. Her husband hasn't seen their new home yet.
"I unpacked the whole house," she said. "I picked out furniture. I scheduled all the delivery dates. I've done everything myself. It wasn't easy, with two kids plus school."
Supporting A Family
She is studying online to do medical transcription. But right now, her husband's military salary is supporting the family. If he came home, one of them would have to find work. Sarah said a recession doesn't seem like the time to test the job market.
"I know a lot of people are having a really hard time in jobs. The yearly bonuses they might get or whatever, they're not getting. The raises aren't happening," she said. "It's just, if you don't have an education beyond high school, it's really hard to get anywhere. So we're just trying to build a foundation."
I asked her about her husband's decision, and whether there were times when he wanted to leave the military and get home for good next year.
"Yeah, he's done that a lot," she said.
In fact, Sarah got behind the decision to re-enlist before her husband did.
"It's stable," she said of the Army. "It's secure. You have to really mess up to get fired. And you can't quit. It's pretty stable. The deployments are risky. But ..."
She trailed off as her daughter, Cheyenne, started to interrupt with some baby sounds.
Sarah comforts herself and the kids by remembering that while Jeff is in the Army another six years, he'll get leaves and will be back for long stretches between deployments.
High-Tech Comfort
And she comforts herself with her laptop, which was sitting in front of us on the coffee table. It connects her to her husband. They both have Web cameras. Often, Sarah focuses hers on Cheyenne.
"He can watch her," she said. "The pride in his face is worth it, I guess, to let him see her all day. He gets very happy."
As it happened, Jeff Taylor was online during my visit. On Sarah's screen, there was the soldier in his room in Baghdad.
"He's wearing a white T-shirt, and getting ready for bed," Sarah said.
She's determined to be strong. In fact, she made a point of telling me she doesn't watch her husband on that laptop all day long.
But when he's online, she feels like he's there with her. And it helps.