Spring 'Mini-Season' Means More TV Options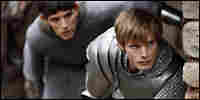 On 'Monkey See'
More new shows, and their odds of success:
Springtime means awakenings of all sorts: Baseball fans are back in the stadiums, gardeners are planning their plots — and these days, new TV shows sprout when the daffodils do.
But with more channels, more shows, and more ways to watch, how's a fan to know what to TiVo?
Linda Holmes, who writes about pop culture and entertainment on the NPR blog Monkey See, joins Weekend Edition Sunday for a chat about the good, the bad and the ugly among the season's new shows — and to talk about the ever-increasing number of ways to watch on your own schedule.