U.S. Military Combats Rising Motorcycle Fatalities
U.S. Military Combats Rising Motorcycle Fatalities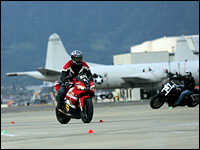 Marine Lance Cpl. Daniel Woodall
A spike in motorcycle deaths among service members is prompting a call to arms from the military.
In 2008, more service members died in motorcycle crashes than ever before — 126 from all four services. The Army saw a 24 percent increase in fatalities, and both the Marines and the Navy report significant increases as well. Top safety chiefs across the military have identified motorcycles as the No. 1 safety concern off the battlefield.
To combat the trend, the military has expanded motorcycle safety classes and started a pilot project hosting "Track Day" events on many bases. The events are an opportunity for military personnel to drive fast in a safe environment and to learn the limitations of their vehicles.
Literally Testing Riders' Limits
On a recent Track Day at the Marine Corps Base Hawaii on the island of Oahu, orange traffic cones trace a makeshift street course on the flight tarmac. Groups of brightly colored Japanese street racing bikes maneuver the course at speeds of up to 90 mph. Hawaii is home to some 40,000 military personnel, and five of them were killed in motorcycle accidents last year.
Safety specialist Mario Diprete says the course lets riders literally test their limits. "Out here is the time to run hot and wide into a turn and feel how uncomfortable it makes you," he says. "And you learn from it and you don't do it again — or you learn how to recover from it."
Instructors stand in the middle of the tarmac, pulling riders over, giving them quick advice and sending them back onto the course. Without guard rails, utility poles, parked cars or curbs on the course, riders have a much better chance of surviving the lesson.
Navy sailor Chris Yates has been on motorcycles most of his life. After speeding around the track, he says he loves the experience.
"It's just need for speed," he says. "I've got a wife and don't want to go out and get a ticket on the road, so might as well do it out here."
Rear Adm. James Johnson of the Naval Safety Center in Norfolk, Va., says speed was a factor in the vast majority of crashes that killed service members last year. Johnson says motorcycle experts tell him if you want to slow riders down on the highways, put them on a racetrack.
"When a rider finds himself humbled in such a pristine riding environment, he's much less wiling to take those chances in the unknown riding environments of our national roadway system," Johnson says.
Risk-Taking Part Of The Job
Longtime rider Maj. Nicholas Morris says part of the problem is that service members often have little riding experience and plenty of disposable income. "It's a recipe for disaster," he explains, "because your margin of error is small on a motorcycle."
Morris adds Marines tend to be type-A personalities who aren't afraid to use a piece of dangerous equipment. He prefers Harleys to the tiny Japanese racing bikes. He says he hasn't yet grown up enough to not ride the bikes the way they were meant to be ridden — fast.
Army Sgt. 1st Class John Thomas, whose trying out the course at the Marine Corps Base Hawaii, may be exactly the kind of type-A personality Morris is taking about. He's well aware of the risks — some of his fellow soldiers have died on the road — but says, "It's just the nature of the beast."
"Just like soldiers — we get killed in combat. Motorcycle riders die on the road," he says. "It's a hazard of your occupation."
Military safety officers are keeping a close eye on how service members respond to Track Days. They're concerned the experiment could backfire and actually encourage would-be speeders to push their limits even more. If they see a spike in crashes afterward, this experiment is over.