Does Barry Bonds Face a Double Standard?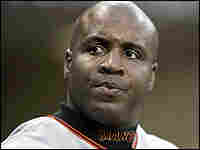 Read the Op-Ed:
As Barry Bonds closes in on Hank Aaron's all-time homerun record, many critics claim Bonds is a "cheater" because of accusations of steroid use. Writer Dave Zirin wonders why many white players accused of using steroids don't face the similar criticism.
Dave Zirin, writer for the Nation and SLAM magazine; author, Welcome to the Terrordome: The Pain, Politics. and Promise of Sports.