Somali Pirates Threaten Revenge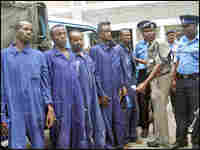 Stringer/AFP/Getty Images
In Depth
The rescue of an American merchant captain held by pirates has unleashed threats of revenge from pirates in Somalia and raised concerns about escalating violence in the region.
After U.S. Navy snipers killed three Somali gunmen who were holding merchant Capt. Richard Phillips hostage in a lifeboat, a Somali pirate told The Associated Press that the pirates would retaliate. Speaking by telephone from the Somali town of Gaan, a man identified as Abdullahi Lami said, "In the future, America will be the one mourning and crying."
Another pirate quoted by the AP called U.S. forces "our No. 1 enemy."
President Obama said Monday that the United States is "resolved to halt piracy in that region." Others say that might not be so easy. Despite the vast forces that could potentially be arrayed against them, the pirates may have the upper hand in terms of sheer ruthlessness.
Warships from the U.S. and other countries have been plying the waters to protect the shipping lanes. But stopping them is unlikely given the size of the area — 1.1 million square miles, stretching from the Gulf of Aden and the coast of Somalia.
Lami, the pirate quoted by AP, was identified as one of a gang of pirates holding a Greek ship for ransom. He did not elaborate on his threat, but one concern is that pirates could take revenge by mistreating the more than 230 seamen aboard about 15 ships that are now being held hostage off the Somali coast.
Can The Danger Get Worse?
A self-proclaimed pirate in the Somali port of Eyl, a well-known pirate haven, was more explicit in a call with Bloomberg News. Yusuf Mohamed Mahdi said, "We will not only target ships and crew in the sea, but also American agencies' staff in Somalia."
Dozens of international aid organizations operate in Somalia, including U.S.-based organizations such as Save the Children and CARE. Many of the organizations have already had to reduce their operations in Somalia because of the danger to their workers.
Some security experts say the latest threats don't mean much in a country that is already the most dangerous in the world for aid workers.
"These threats of retaliation are nothing new," says John Schafer, senior security coordinator for Interaction, an umbrella group of 170 humanitarian groups and nongovernmental organizations in the U.S.
"We have a [threat] scale, 1 to 5, with 5 being the worst. Somalia has been there for a long time. To be exposed to violence in Somalia, it's not a question of if, but when," Schafer says.
Little Regard For Aid Workers
Pirates have shown little regard for humanitarian aid that is directed to the people of their own country. Pirates have stolen or ransomed food shipments in the past. Clan militias and insurgent groups have kidnapped or killed many aid workers, most of them Somali nationals.
The Maersk Alabama, Phillips' ship, was carrying food aid to the Kenyan port of Mombasa when it was attacked April 8 by pirates.
Schafer says he prefers not to name aid groups that are currently operating in Somalia, because that could expose their workers to greater danger.
Despite the threats on land, Schafer favors taking strong action against the pirates at sea. He says there is a lot that could be done to prevent attacks, including confining merchant shipping to convoys in recognized sea lanes where vessels can be protected by warships.
"We've already had to deal with this situation during World War II," Schafer says. "It's a question of getting the will of the world aligned to the problem."
'Kill The Pirates'
Fred Ikle, a scholar at the Center for Strategic and International Studies, wrote a column in The Washington Post headlined "Kill the Pirates," in which he argued that merchant ships should carry weapons and fight back when pirates attempt to board.
Ikle acknowledges that there is a danger of retaliation against mariners who are currently held hostage, and he says their situations must be resolved first. But after that, Ikle says both shippers and governments should not hesitate to shoot.
He dismisses the objection that many countries won't allow armed foreign vessels to enter their ports. "Let those countries see how they like it when foreign ships won't trade there at all," Ikle says.
"The right of self-defense — a principle of international law — justifies killing pirates as they try to board a ship," Ikle says.
Schafer says the solution to pirate violence in Somalia is a two-track process. "You need stability in Somalia and stability on the sea. Part of the problem is that we often think it's one or the other," he says.
Schafer says the danger of retaliation by the pirates is a problem that will persist as long as vengeance is part of Somali culture.
"It's a 60-year-problem," he says, in which at least two generations of people will have to teach their children that "vengeance is not a virtue."