Overview: The Canterbury Road To Modern England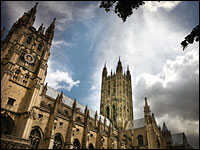 Peter Macdiarmid/Getty Images
Hulton Archive/Getty Images
"Great Britain has lost an empire and has not yet found a role," former U.S. Secretary of State Dean Acheson said nearly a half-century ago.
For many, those words ring true today.
The much beloved home of Shakespeare and The Beatles still struggles to find its place in the post-Cold War world and is grappling with serious new social and economic challenges at home: unemployment, the threat of Islamist extremism, immigration and growing alcoholism.
As Britain confronts change, it remains a place of rich history and picturesque villages — the quaint England of yore that Anglophiles worldwide find irresistible.
An NPR series retraces Geoffrey Chaucer's steps to explore Britain in the early 21st century, offering a portrait of a changing nation some 600 years after Chaucer's pilgrims made their colorful journey from London to Canterbury.
Chaucer's stories, published in the late 14th century, follow a collection of travelers from London to visit the tomb of Thomas Becket at Canterbury Cathedral. The Canterbury Tales offers readers a "concise portrait of an entire nation, high and low, old and young, male and female, lay and clerical, learned and ignorant, rogue and righteous, land and sea, town and country," wrote Oxford scholar Nevill Coghill.
In much the same way, this series explores how British people live and what they believe. A journey through the county of Kent, and its capital Canterbury, provides a fitting overview of the British nation, and the new dramas being played out on its streets and in its rural fields.
Part 1 begins at a restaurant near the site where Chaucer dined with his band of pilgrims in the late 1300s. The modern-day restaurant, called Roast, has been credited with resurrecting British cuisine. From there, the path leads to London's East End to hear from the Muslim community about problems of integration into modern Britain. As the pillars of the old British identity — empire, monarchy and the Church of England — have eroded, there seems to be little to bind Britons and immigrants together, and that is deepening the divisions in society.
Leaving London, the road to Canterbury follows the River Thames, the artery so crucial to the founding of the British Empire. Part 2 visits the Chatham Dockyard, where monarchs including Elizabeth I built their ships. The dockyard was closed when the Royal Navy downsized, and now the surrounding towns are suffering social problems in an increasingly multicultural Britain. White, working-class Britons offer their views on growing immigration in recent years, in a region full of historical landmarks, such as Charles Dickens' house, where he wrote Great Expectations and A Tale of Two Cities.
The county of Kent has been at the front line of the drama of British history throughout the ages. The Romans landed in Kent, as did the Jutes, the Angles, the Saxons and the Vikings. It was one of the first points where Christianity entered England, and Canterbury is the center of global Anglicanism to this day. Part 3 looks at Britain's growing departure from God. Britain has become so secular that missionaries from Nigeria and from other former colonies are seeking to re-evangelize Britain.
Then there are the tricky issues of class — formerly a minefield for newcomers to Britain, but now less of an issue and less rigidly applied as social mobility has increased.
In Part 4, a group of rural people go fox-hunting and talk about class and the rural-urban divide. Many outsiders still have an image of Britain handed down from Jane Austen novels, of a prim, conservative population in their starched collars, offended by the very mention of sex. But modern Britain is much bawdier than that. A former schoolteacher runs pole-dancing classes for the educated, middle class women of rural, conservative Tunbridge Wells.
The provincial cathedral town of Canterbury has become a booming, multicultural city as people from across Europe have flooded in. In Part 5, members of a Scottish dancing society discuss the possible breakup of Britain, reflecting a sentiment of nationalism among the Scots and Welsh. And Canterbury's narrow, medieval streets echo with the chatter of European tour groups, students and visitors — who have turned the small town into a buzzing European city. As the journey ends, a look at the social and cultural tensions in Canterbury pose fundamental questions about national identity that were inconceivable in Chaucer's time, or even a few decades ago.
Chaucer's Cheek Returns To Britain
Chaucer's Cheek Returns To Britain
Fourth in a five-part series
Great Britain has changed substantially since the time of Geoffrey Chaucer's Canterbury Tales, which described life in late 14th century England. For this five-part series, Rob Gifford retraced Chaucer's steps, walking the 60 miles from London to Canterbury, to give a snapshot of Britain in the early 21st century.
For many Americans, Britain is the land of Masterpiece Theater and Jane Austen novels. Literature and popular films have captured England in amber: a Victorian place of starched collars, proper manners and 19th century mores.
But an extraordinary mix of colorful characters populates Chaucer's Canterbury Tales, reflecting English life in the late 14th century. And as any American high-schooler required to read the tales will tell you, many of the stories — such as "The Wife of Bath" — are delightfully bawdy.
A More Relaxed, Naughtier Britain
Modern Britain is no less diverse, and sometimes downright dirty. The walk along the modern-day route from London to Canterbury reveals characters who reflect a changing country. They embrace the earthy sexuality from Chaucer's day, along with more staid British traditions.
"The crudity that is rife in England now is back to Chaucerian times and much, much, much worse than Chaucer times. It is there like it has never been before," says retired academic Trevor Eaton, now a traveling actor who for 22 years has been performing Chaucer's works.
In an impromptu performance for a reporter, Eaton uses empty wine bottles placed on a table to represent characters, and green shoe boxes as the beds to act out — in Middle English — the medieval bedroom farce "The Reeve's Tale." And you don't need to understand Middle English to be reminded just how coarse it is.
No doubt every generation laments the loose morals of the next, but it sometimes feels like the Noel Coward song "Anything Goes" could be the theme of modern Britain.
Consider the nice middle-class ladies of Royal Tunbridge Wells — a conservative stronghold just off Canterbury Road.
What are they doing on a Thursday night? It is not ballroom dancing.
Dancing To A Different Tune
Advertising executive Emma Mitchell, 37, is giving a pole-dancing lesson to a group of young women in the side room of a pub. This isn't some seedy gentlemen's club; it's all very middle class — doctors, lawyers, professionals all come to Mitchell's classes.
She instructs one of her students: "You're going to throw that leg up and make contact with your thigh on the pole, and tuck your inside leg under the pole."
Mitchell has a master's degree in 18th century English literature. But when a long-term relationship ended, she decided to reinvent herself as a part-time teacher of what she calls "pole fitness." She and her friends also perform in burlesque shows across Britain.
"One of the reasons why I love the 18th century is because it's pre-Victorian, and there's none of that ridiculous prudery or niceties about sex," Mitchell says. "Sex was part of everyday life for everybody, and we're slowly coming out of the dark ages of the Victorian era."
Mitchell is part of a broader sexualization of British culture that has taken place over the past decade.
Feminists and conservatives alike have opposed lax laws on establishments like lap-dancing clubs (there's one just across from Canterbury Cathedral), and lamented the general trend in public morals and on television.
Traditions With A Twist
But conservative Britain still exists on the road to Canterbury, amid the gentle rolling hills that are typical of rural Britain. It is a world apart from the cities, with their immigration and their lap-dancing clubs. And the pastimes here are more traditional, too.
On the Isle of Sheppey in Kent, Sarah Leggat and her horse Barney are out fox-hunting with a group of about 20 other riders.
But there is a catch. Fox hunts were banned by the Labour Party government in 2004. So they rush about the countryside on their horses but do not catch foxes — or at least that's what they say.
They are angry that ancient British traditions — not just fox-hunting — are being attacked by the government, and by the new, multicultural nature of much of Britain. The government does not understand the rural lifestyle, they say.
But these fox hunters are not the archetypical, upper-class British — known in the local slang as toffs.
Huntsman Paul Saunders, sitting erect on his horse, holding his bugle, dressed in his bright red coat, says that in that sense, Britain has changed greatly. Now farmers, plumbers and electricians join the hunt.
"I'm definitely not a toff. Years ago it was a sport for the gentry. Those times are passed," Saunders says.
A fox hunt made up of riders from various walks of life seems to say much about diversity and the end of class struggle in Britain today. Yet the idea of fox-hunting without a fox also seems to be a metaphor — for the state of confusion about being British.