Portuguese Water Dog May Leap In Popularity
Portuguese Water Dog May Leap In Popularity
Pete Souza/The White House/AP
Political Junkie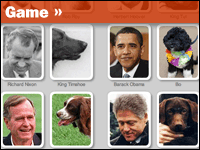 Bo, the new presidential pup, makes its public debut Tuesday. The Portuguese water dog is a gift to the Obamas from Sen. Ted Kennedy (D-MA).
In 2008, according to the American Kennel Club, Portuguese water dogs were the 62nd most popular breed, ranking just ahead of the Japanese Shiba Inu. But with a Portie moving into the White House, that's expected to change.
Stu Freeman, president of the Portuguese Water Dog Club of America, says his group is ready for what's expected to be a surge of interest in the breed.
"We've prepared for the onslaught of hits to the Web site, for instance, and then questions to the breeders list, as to 'Can I come see them?'
"And that's exactly what we would encourage — that if people are interested in Portuguese water dogs, and there are going to be a lot of them, is that they go through the breeders list and they go visit the breeder and visit the dogs and see whether they like them or not."
Meanwhile, despite the fact that Bo has been sequestered at puppy boot camp with Kennedy's dog trainer since March, at six months, the dog is still pretty unpredictable.
"It's a toddler with four legs. That's all it is, whether it's 6 months or 9 months or 4 months, it's still a baby, and they need to understand that and not be too impatient and expect too much," says Matthew "Uncle Matty" Margolis, a California-based dog trainer and host of a series of PBS dog-training specials. He says the real learning starts now for the first family, who are first-time dog owners.
"The good news is they don't know the wrong thing to do," Margolis says. "They can't say, 'My other dog did this.' The bad news is it's all about 'What do we think? We should try this, try that, and we'll get 5,000 bits of information from everybody who's an expert, and the poor little guy's going to be confused.' "
The White House declined to have its dog trainer interviewed, but the first family is expected to have plenty of expert help.