Trees May Dry Up With Global Warming
Rick Gunn/AP/Nevada Appeal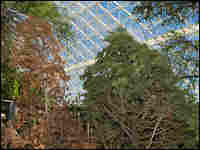 Joe Martinez/University of Arizona
Joe Martinez/University of Arizona
Warming global temperatures could cause massive tree die-offs. That's the gloomy conclusion of a new study by scientists at the University of Arizona.
The study addressed a fairly basic question: Do warmer temperatures make trees more susceptible to drought?
It might seem surprising that scientists don't already know the answer to that question. But biologist David Breshears of the University of Arizona says there's a lot that scientists don't know about trees. "Like, what does it take to kill a tree, and do warmer temperatures matter in terms of killing trees?" he says.
To study the effect of heat on the drought tolerance of trees, Breshears and his colleagues decided to do an experiment. They uprooted 20 mature pinyon pine trees from a ranch near Ojitos Frios, N.M., and shipped them approximately 600 miles to Biosphere 2 in the Arizona desert outside Tucson.
Biosphere 2 was originally built to prove that humans could live in a closed, self-contained ecosystem. But the project ran into problems, and now the facility is basically a giant greenhouse with different climate zones inside.
Henry Adams, who worked with Breshears on the study, says they put the trees into two areas: one where conditions resembled those in New Mexico, and the other with a temperature of about 8 degrees Fahrenheit warmer.
Then, they stopped watering half of the trees in both of those spaces.
"What we saw was that trees in the warmer area died 30 percent faster on average than trees in the ambient area," says Adams.
These finding appear in the current issue of the journal Proceedings of the National Academy of Sciences.
Breshears says these results spell trouble for trees if predictions about global warming come to pass.
"If what we see for this pinyon pine species also applies to other widespread tree species," says Breshears, "then there's potential that we could have a lot of die-off in a lot of places."
Although the results don't come as a major surprise, Phil van Mantgem says it's one thing to suspect something, and another to demonstrate it scientifically. Van Mantgem is a research ecologist with the U.S. Geological Survey's Western Ecological Research Center in Arcata, Calif.
"It was important to do this sort of work to demonstrate that this does occur in biological systems," he says.