The Past Complicates Iraq's Efforts To Move On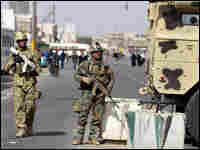 Ali Yussef/AFP/Getty Images
Six years ago this month, a crowd of cheering Iraqis and a worldwide television audience watched U.S. Marines topple a prominent statue of Saddam Hussein in Baghdad's Firdos Square in the weeks after the U.S.-led invasion.
It didn't signal the end of the war as many back then hoped it would.
But recent activity at the square has some Iraqis encouraged again. This month, blast walls are being removed, and roads closed years ago are being reopened near Firdos Square.
"Slowly, slowly we will remove a lot of this," says Khalid Khanjar, manager of the nearby Palestine hotel. "We feel safe, of course."
Calls For Reconciliation
Iraqi Prime Minister Nouri al-Maliki has called on his countrymen to forget the violence of the past and seek reconciliation.
While some in Iraq may want to move on, many say they are unwilling and unable to forget the bloody past. And in many parts of Baghdad, the blast walls remain up, as does the sectarian distrust between Sunnis and Shiites.
U.S. military officials hoped that a reduction in violence would encourage reconciliation. But so far, while there has been a relative calm in many parts of the country, it seems that the divisions that were created during the civil war are becoming entrenched.
Many Iraqis say they do not trust the Iraqi security forces or the central government to keep them safe, and they expect more trouble to come. Bombings and attacks have increased in recent weeks.
'Difficult To Forget'
Abu Mohammed, a Sunni and lifelong Baghdad resident, fled his mixed Sunni-Shiite neighborhood during the war. He would like to go back, but he believes reconciliation will never happen.
"What happened will be difficult to forget. Whole families were killed. Their relatives will not forget. This will affect our future," he says.
Baghdad remains a city divided, and recent statistics indicate that the predominant feeling after six years of brutal war is fear.
An estimated 4 1/2 million Iraqis were displaced by violence during the war, many of them Sunni Muslims fleeing to Jordan and Syria. Only about 300,000 have returned home, says Kristele Younes, a senior advocate for Refugees International, a Washington, D.C.-based advocacy group.
After the neighborhood-by-neighborhood sectarian cleansing that plagued Baghdad during the war, in many cases it is not safe for people to return to neighborhoods they were driven from.
"A lot of people have been intimidated. Some of them have been killed. Their houses have been blown up. It seems that the communities are not necessarily ready yet to welcome large-scale returns, especially large-scale returns from other sects than the main ones in their neighborhoods," Younes says.
Mostly Shiite City
The sectarian makeup of Baghdad is now very different than it was before the U.S.-led invasion. Then, there was a large Sunni population. Today, Baghdad is a predominantly Shiite city.
On a recent afternoon, a long line of cars waits to enter the western Baghdad neighborhood of Ameriyah, one of the few areas of the capital that remains predominantly Sunni. Iraqi army officers check every vehicle that enters here, and IDs are scrutinized.
While most Shiite neighborhoods in Baghdad allow traffic and people to enter freely, Sunni neighborhoods are protected by walls and guarded by men with guns.
Abu Mohammed says his grandfather built his family home 60 years ago in the mixed Baghdad neighborhood of Hurriyah, where Sunnis and Shiites lived in peace. Mohammed left during the war when Shiite militiamen moved in. He and others like him fled to nearby Sunni enclaves around Baghdad.
Today, Hurriyah is almost completely Shiite. Abandoned Sunni mosques, some of them scarred by bombings, dot the neighborhood.
Mohammed wants to return to his neighborhood, but he doesn't feel safe, even though the Shiite militia no longer control the area.
"Some of the Sunnis who tried to move back have been killed or have been threatened or have had their houses burned," Mohammed says. "Why have they not allowed their neighbors to come back? Did we hurt them? Who has been killed there? Who's been displaced? It's the Sunnis.
"We miss our life together, we miss sharing food together, the joint wedding parties. We shared our happiness and sadness together. We have all lost," he says.
U.S. Troops Try To Help
U.S. soldiers are trying to help Sunni families return to Hurriyah and convince Iraqi army commanders to reopen some of the closed mosques. American soldiers visit every Sunni who returns, but only about 600 displaced Sunni families have returned, out of 4,000 who fled.
And some people in Hurriyah prefer it that way.
"It's better if it stays completely Shiite. Most of the troubles here were caused by the Sunnis. It's better to have the Sunnis out," says 22-year-old Dhai Badran, a Shiite.
Yasin Abdul Rasool Ridha, 41, says sectarian violence drove a wedge between people, and mutual suspicion still lingers. He doubts the Sunnis will ever be able to come back.
"I started to feel uncomfortable with Sunnis. The militias used to question us if they saw us with a Sunni. It put us in danger, so even if I was their friend, I stopped talking to them, just to be safe," he says.
Morgue Is Busy
With violence on the upswing, Baghdad's central morgue is busy.
Adel Hassan Khalaf says he has been to the morgue three times in two weeks.
Four of his relatives were killed in a Baghdad bombing in the Shiite district of Khadimiya. On this morning, he is claiming the body of his brother-in-law, who was killed in a bombing in Diyala province.
"I don't know what to tell you. I expect things to get worse again," he says. "The country is done for. It is done for. Hope is weak in Iraq."