Inside 'Hollywood's Attic': Warner Opens Its Vault
Inside 'Hollywood's Attic': Warner Opens Its Vault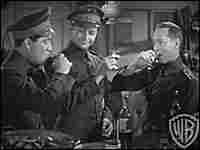 Watch Clips From
The Warner Bros. Archives
Warner Bros. — the purveyor of everything from Looney Tunes cartoons to the latest Batman films — is cracking its vault wide open.
The studio's been slowly rolling out about 100 vintage films a year over the last 12 years. Now, movie fans can browse the archives of Warner Bros. Pictures, MGM and RKO to find lesser-known favorites. You can order a copy of Greta Garbo's silent version of Anna Karenina or something from the early days of Demi Moore's career.
"Everyone that you know is somewhere in there — from Mickey Rooney to Cary Grant," film critic Desson Thomson tells NPR's Scott Simon.
Browsing the archives "is a fabulous thing to do," he says, "because not only can you click on the movies, but you get a little taste — a little preview of what it looks like. It's going to be uneven quality because they're straight from the vaults. Who knows what condition they're in, but they're mostly in good condition."
Thomson says he's amazed at some of the things he's found. "Like Brainstorm ... Who knew that William Conrad, the voice of Gunsmoke, who knew that he directed B-unit movies once upon a time?"
"And then there's movies like The Big Circus with Victor Mature, which was sort of a low-rent Greatest Show on Earth. ... And it was made by Irwin Allen, who made the disaster movies of the '70s later on."
There's also a string of Grant films, from Mr. Lucky to Once Upon a Honeymoon, that Thomson says he's never seen.
"This can sort of replicate what it used to be like to be around in the '40s, when people went to the movies three, four, five times a week and just saw the latest, you know, Abe Lincoln movie starring Raymond Massey," he says. There are "lots of these big-name people ... in movies you haven't seen that were sort of the second-tier movies — not necessarily saying they're bad movies, but they're just the other movies that didn't quite stay there in the pantheon."
Another of the movies in the archives is the 1938 film Three Comrades, which Thomson says is the only film for which F. Scott Fitzgerald got screen credit as a screenwriter, "despite years of working on Hollywood backlots."
"It's like going through Hollywood's attic and, you know, finding all those crazy, quirky photos and family relics that you'd forgotten all about," he says.