Bela Fleck and Chick Corea: An Enchanting Duo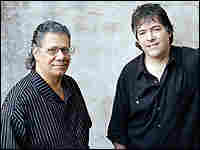 Music from 'The Enchantment':
Jazz fans know Bela Fleck and Chick Corea as master musicians in their own right. Now, the two Grammy-award winners have collaborated on a new album, The Enchantment. As a duo, Fleck and Corea combine a variety of musical styles and flavors — from blues to bluegrass, from classical to country. They perform tunes and take questions about their CD, which will be in stores Tuesday.
Chick Corea, pianist/composer; 10-time Grammy award winner
Bela Fleck, banjoist/composer; 7-time Grammy award winner; leader of Bela Fleck and the Flecktones
More on Bela Fleck:
Web Resources