Michigan, Detroit Prep Themselves For A New Era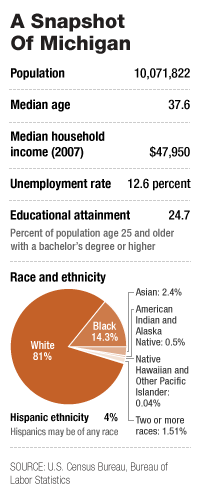 Michigan — and Detroit — know they have to reset themselves economically. The state has the highest unemployment rate in the nation, and no matter how the car industry emerges from its current crisis, it will certainly be smaller and employ far fewer people.
As far back as the 1950s, some economists worried the Detroit region was too dependent on the car industry. They said it should work to regain the diverse and vibrant mix of businesses it had before Henry Ford, when Detroit made freight cars, ships and stoves; cigarettes and seeds.
The state is now moving aggressively to develop the industries of a new era: car batteries, health science, green technology and defense. Each of these businesses might employ a few dozen people — perhaps several hundred or a few thousand. But no single business will grow large enough to replace the hundreds of thousands of jobs that have been lost in the car industry.
Detroit seems poised to suffer the most from these changes; it has lost much of its former self over the past 40 years and seems forever suspended between urban renewal and urban ruin.
But boosters of the city and the region say it still has much to offer the rest of the country and the world: for starters, a high concentration of smart engineers and innovative designers, and a collection of fine universities to support their work. Urban theorist Richard Florida says the Detroit region has a unique "creative edge and energy" that never went away — even in the worst of times.
In three days of reports from Morning Edition's Steve Inskeep, NPR's Don Gonyea and Michigan station reporters, NPR will tell stories about Detroiters and Michiganders who are imagining a region that might emerge from this economic crisis stronger and smarter.