StoryCorps Griot: Two Generations Share Stories of Struggle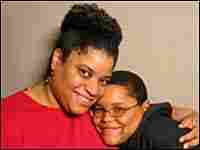 Questions or Comments?
In this week's feature from the StoryCorps Griot Initiative, Melva Hightower and her young nephew Tyler exchange stories of strength and struggle across a generational divide. Tyler recalls childhood teasing, and Melva the loss of a dear friend to AIDS.
The StoryCorps Griot Initiative travels the country collecting the recollections of black Americans. On Tuesdays, News & Notes features one of these stories. To find out where the StoryGriot Initiative will be next, visit the StoryCorps website.