S. Africa Goes To Polls, With ANC Highly Favored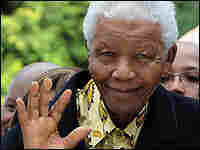 Alexander Joe/Getty Images
South African voters showed up at the polls in record numbers Wednesday in an election that has stirred more excitement than any since the election of Nelson Mandela ended the apartheid era 15 years ago.
Mandela and government and party leaders were among the first to cast ballots in the vote that was expected to propel African National Congress leader Jacob Zuma to the presidency next month. The increasingly frail Mandela, wearing a heavy overcoat against the morning chill, was helped to the polling station near his Johannesburg home. The iconic former president flashed a broad smile as he dropped his ballot in the box, surrounded by other voters shouting "Viva Mandela."
Wednesday's turnout for the parliamentary election was reminiscent of the first all-race elections in the country, in 1994. The Independent Electoral Commission anticipates a record turnout of about 80 percent of South Africa's 23 million registered voters. About 30 percent of them are young people voting for the first time.
Zuma says he is eager to set up a new government that will bring "visible change" to improve the lives of the country's black majority.
The African National Congress expects an overwhelming victory. Parliament elects South Africa's president, and an ANC sweep would put the 67-year-old Zuma — one of the ANC's most popular leaders ever despite surviving corruption and sex scandals — in line for the post when the new assembly votes in May.
A two-thirds majority would give the ANC unchallenged powers in parliament, something opposition parties are trying to prevent. Critics have tried to paint Zuma, a former anti-apartheid guerrilla, as corrupt and anti-democratic. Retired Cape Town Archbishop Desmond Tutu, who won a Nobel Peace Prize for his anti-apartheid campaign, has questioned whether Zuma is fit to govern. Tutu cast his ballot in Cape Town without specifying which party won his vote.
The ANC has been accused of moving too slowly over the past 15 years to improve the lives of South Africa's black majority. During the campaign, the ANC stressed its commitment to creating jobs and a stronger social safety net in this nation of nearly 50 million, which is plagued by poverty, unemployment and an AIDS epidemic.
There also have been concerns that Zuma's alliance with the communists and the trade unions will make him veer from the market-friendly monetary policies of Thabo Mbeki, who succeeded Mandela as president.
Mbeki was forced to step down as South Africa's president last year when Zuma defeated him in a bitter power struggle for the ANC leadership. Kgalema Motlanthe was appointed president of a caretaker government until the election.
Zuma was fired by Mbeki as deputy president in 2005 after he was implicated in an arms deal bribery scandal. After a series of protracted legal battles, prosecutors dropped all charges against Zuma earlier this month, saying the case had been manipulated for political reasons and that the criminal charges would never be revived. But they still believed they had a strong case against him.
The ANC swept the last elections, in 2004, with 69.9 percent of the vote. Zuma said Tuesday that he expects an overwhelming victory again but declined to speculate by how much. But others predict that the ANC may have trouble reaching a two-thirds majority again.
From NPR staff and wire reports