Venture Capitalists, Entrepreneurs Bet On Detroit
Venture Capitalists, Entrepreneurs Bet On Detroit
Michigan, the national leader in recession, depends on an auto industry that will never be as big as it was. So how does the Detroit area diversify? Who's hiring, or investing in something new? Morning Edition reports on the city's desperate race to replace the jobs that the automakers eliminate.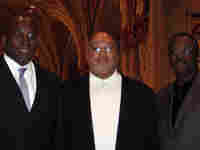 Michigan residents are waking up to news that General Motors may take the summer off.
People familiar with the plan say most factories will shut for up to nine weeks.
The cars just aren't selling.
The expected GM shutdown serves as one more reminder that southeastern Michigan is looking for a job. As Detroit's "Big Three" keep getting smaller, the challenge is to somehow create jobs as fast as the auto industry loses them. To do that, Michigan is making a series of bets on smaller companies like defense contractors and biotech firms.
Asterand is just such a company. Victoria Blanc snaps on a pair of surgical gloves and enters a storage room full of silver tanks. Each stands roughly 5 feet tall and is cooled to 190 degrees below zero.
"They're basically giant thermoses that are very, very, very, very cold," Blanc says. They have to be, because they hold small pieces of human tissue — samples of liver and pancreas, breast cancer and lung cancer.
These are leftovers from surgery or autopsies. Medical researchers buy them and use them to study the DNA of diseased tissue.
This rapidly growing firm keeps the storage tanks in a former General Motors building. And it turns out that many Michigan companies want to gain from the DNA of the state's largest and most troubled industry.
That includes businesses that don't manufacture — businesses like Netlink, an IT company whose key employees had a conference call this week.
They talked about business opportunities, including a sale they'd like to make to GM. That deal has been put on hold, but the company is going after defense and government work.
Netlink manages information. For example, it can rework the way a factory buys raw materials. And the firm, co-founded by Dilip Dubey, an Indian immigrant, is expanding.
Rather than let flat be the new growth, as some have told Dubey to do, Netlink is seeking more business with its work force of 1,200 employees.
As with many high-tech firms, Netlink hired hundreds of workers offshore, in Bhopal, India. Dubey has also added jobs in Michigan, where salaries are several times higher.
So why isn't his whole work force in India?
"The majority of our workforce is in the U.S.," Dubey says. "When I go to financial investors, they ask, this makes no sense, what is wrong with you? And the answer there is the Michigan workforce, which has significant experience in automotive and manufacturing industry, understands how things work."
Former auto employees know the American industries that Dubey wants to serve.
That same auto-industry DNA attracted venture capital to Detroit. Investors were drawn to minority-owned firms, knowing that the Big Three had given many minorities in the area business experience.
One of those firms is a startup, run by former auto subcontractor Larry Smith, selling a very different product.
"Let's talk about a fast-food franchise owner who owns several stores," Smith says. That franchise owner can't see all of his stores at once. But Smith wants to sell a system that lets him watch the view from all of his security cameras.
The pictures come up on a device like a BlackBerry that works anywhere that there's a cell phone signal. This product was the idea of a first-time Detroit entrepreneur.
"Ah, you know, dreams are recession proof," laughs Marquis Coleman, who mortgaged his home to finance the business. "You've got to pursue your dream."
But what if the business fails? "That's just the chance you take," Coleman says. "Most people don't think they'll fail, though."
Coleman's product launch comes in a few weeks. His success or failure may depend on the skills that the Big Three automakers once grew.
The same might be true for Michigan.