Ban The Burger, Save The World
Ban The Burger, Save The World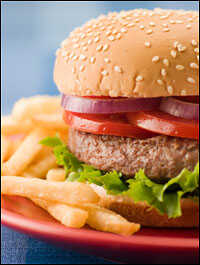 Hamburgers and pizza disappeared from scores of university and corporate cafeterias across the country Wednesday — all in the name of saving the planet, one bite at a time.
In honor of Earth Day, there was no beef or cheese on the menu at places such as the University of San Francisco dining hall. Executive chef Jon Hall, who supervises the kitchen crew, says the one-day ban is designed to raise awareness about the effect food has on the environment.
"We don't do it every day," Hall notes. "It's not like we never have hamburgers — there'd be a revolt."
But students will be eating a lot fewer burgers if Helene York has her way. She's the manager of a nationwide low-carbon campaign for Bon Appetit, a food-service company based in Palo Alto, Calif. Her program reaches more than 400 cafeterias and cafes across the country. All of them trimmed out beef and cheese for the day.
"The people who love meat shouldn't feel guilty about it. They should consume less; they should waste less food," York says. "That's something everyone can do."
There's a growing movement in environmental circles to cut carbon emissions by cutting back on certain foods, because a significant amount of greenhouse gas emissions are created by the food industry. It turns out that cows, sheep and goats make a lot of methane, as well as nitrous oxide. Add in the carbon dioxide used to truck food long distances, and you have an environmental polluter that some studies say rivals automobile emissions.
"It's great that people are thinking about driving fewer miles, taking more public transportation, driving more efficient vehicles ... but they should think about driving more efficient lunches, too," says Dr. Robert Gould, head of the San Francisco Bay Area chapter of Physicians for Social Responsibility. "If they cut out meat and cheese for lunch, that would have the same impact as driving fewer miles."
Gould's organization has created a program similar to that of Bon Appetit to reduce the amount of meat used at Bay Area hospitals. One benefit of a lighter diet is a lowered risk for diabetes and heart disease, he says. But there's a bigger issue at play.
Gould says the emissions are a public health issue that could result in an increased risk of respiratory problems such as asthma. So local and personal efforts to reduce emissions, he says, could have long-term health benefits.
David Gorn reports for member station KQED.