Chinese Businessman Hears The Sound Of Money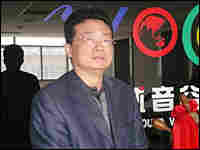 From The Sound Archive
Pigs, Donkeys And Frogs? A Menagerie Of (Human) Snores
An ambitious Chinese entrepreneur has set up an online audio archive (in Chinese) that encompasses the sounds of 22 different types of hiccups, a giant salamander that cries like a baby, and traditional Chinese folk culture.
The weird and wonderful collection of sounds also includes a speaking myna bird that gives Chinese New Year greetings and asks for the traditional red packet of money, or hongbao, and a collection of dialects from all over China.
The archive is the brainchild of businessman Qin Jie, who first became interested in the commercial potential of sound in 1993 while working in a bank.
Storing Dialects, 'Catching' Fish
His first coup was gathering 60 university students from all over China and recording them speaking in their different dialects. He then sold this dialect bank in 1993 for about $5,000 — a fortune in at the time — to a Chinese company offering premium-rate phone services.
The purpose? So the curious could dial up to hear people speaking in the Chinese equivalent of Cajun. This was the start of Qin's career as a freelance audio content provider.
"We had a weapons sound bank," Qin recalls. "So you dialed a special number, then you pressed 1 to hear a handgun, 2 for a rifle, 3 for a submachine gun, 4 for a grenade."
In those days, before the Internet had penetrated China, he even set up a telephone fishing service. Customers could "catch" fish by pressing buttons on the telephone handset. Later, they would be able to pick up real fish from participating restaurants.
Building A Sonic Wonderland
These days, Qin has far grander plans. He boasts that construction is due to start soon in the central Chinese city of Hefei on a $150 million hotel and restaurant complex equipped with voice-activated sound systems that would allow guests to summon sounds of waves or birdsong, for example, at any time.
Qin is also seeking investors for a massive industrial park devoted to the audio industry and what he calls "the world's first Audio Disneyland," which he also hopes to build in Hefei.
He has political support that goes right to the top: The walls of his office include pictures of Li Changchun, a top Chinese official, on an inspection tour of Qin's project. Li ranks fifth in the Politburo Standing Committee, the group of nine men who rule China.
Hopes For 'Massive' Market, Preserving Dying Sounds
Qin, who no longer works in a bank, is convinced that sound can make money.
"There's a huge market for sound effects for TV, films and software, and for telephone ringtones to download. I think the market is massive," he says.
To this end, five years ago Qin set up an online subscriber sound archive, which, for example, has a section devoted to China's folk culture. It includes a dialect bank and the calls of the fast-disappearing street peddlers.
"We wanted to save our tradition of oral culture. These peddlers' calls to sell buns, sharpen scissors or sell vegetables are a type of oral advertisement. Nowadays, people don't really call [like this] so much anymore; they sell through supermarkets," he says.
As city dwellers move into high-rise apartment buildings, they can no longer hear the arrival of itinerant street peddlers such as the seller of red bean pancakes or the knife sharpener. As well, many of the street peddlers who do still exist now use taped recordings of their calls to alert people to their arrival, rather than actually shouting themselves.
Modernization is hastening the end of street peddlers, but new technology at least means those nostalgic for their chants can download them — for a small fee, of course.
Correction
April 27, 2009
The introduction to this story said, "Do you want to hear a lizard that cries like a baby?" Salamanders are not lizards. Lizards are reptiles; salamanders are amphibians.