New Reno Ballpark Offers Escape From Troubles
New Reno Ballpark Offers Escape From Troubles
Staying In Touch
Follow David Greene as he travels the country, and help him find interesting stories along the way.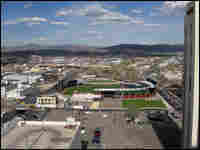 The new stadium in downtown Reno, Nev., has all the classic minor league trappings. The train whistling as it passes behind the outfield. The goofy mascot entertaining and giving kids high-fives. And there's the oversized baseball, with hands and a mouth, climbing over the home run wall to sing during the seventh inning stretch.
I took in the scene this week at a matinee game between the Reno Aces and Colorado Springs Sky Sox. With not a cloud in the sky and fresh-cut grass, it was enough to make you believe the economy really might be turning up.
The new stadium — and the arrival of the Aces, a Triple A team playing its first season here — has been seen as a local stimulus package of sorts. There are several hundred new jobs. One of them was taken by 28-year-old Christiane Reyes, an usher.
Scary Job Market
As of just a few months ago, Reyes was country-hopping, working for a student travel company. But she felt trapped abroad. She desperately wanted to move back home to Reno. It's just that Nevada's job market scared her.
"I knew coming back home it was going to be hard to find a job I was going to be happy with doing," she says. "With the Reno Aces opening up I'm like, I'm going back home, I'm going to get myself a job. And that's exactly what I did. And here I am."
But she's an exception.
New baseball stadium or not, the unemployment rate in Reno rose to 11.2 percent last month. It wasn't hard to find people affected. As I wandered the ballpark, I heard a guy telling his friend how he had just gotten his unemployment check Tuesday — just in time to attend this game the following afternoon.
The man talking was Chris Rounds, and after I apologized for eavesdropping, he told me that after long days of job hunting, he's been desperate for a way to unwind. A $7 baseball ticket and a beer hit the spot.
"Go to the ballgame — that's what it's all about," he says. "Get out, forget about your troubles. You go to a ballgame, everything's all right. Makes the day go by."
Rounds was laid off last year from a heating and air conditioning company. He wants to be optimistic, but he fears the recession may only get worse.
"It's going to get tough," he says. "But we'll get through it."
Rounds is a Republican and didn't vote for President Obama. But he is willing to give the president far more than 100 days to turn the economy around.
"I don't know if he's done a good job yet," Rounds says. "But he's trying. Everybody gets a fair chance, you know?"
Housing Strikeout
Another fan here, John Schweitzer, is like so many people in Nevada. He was riding high a couple years ago. Thinking about retiring early from his job with the state highway department, maybe taking a risk and trying some new career. He was secure. After all, the value of his house was soaring.
He purchased his house for $550,000 four years ago. The appraisal shot up to $1.1 million, and now it's down to $675,000.
Now, at age 54, he'll stay in that highway job.
"I'm heartbroken over it — I thought I'd be gone by now," he says. "But I'm going to continue working. I love my job. I feel like at my age, I don't have to retire. I just want to do something different for a while. The way things are, I can't do that."
Root, Root, Root For the Economy
Schweitzer was also no fan of Obama during the campaign. But he is like a number of Republicans I spoke with at the ballpark, and along this road trip. When it comes to the economy, they're rooting for the president.
"He's either going to be a huge hero, or he'll be marked down as not," Schweitzer says.
As for Obama's supporters, I've seen a change in the 90-plus days since inauguration.
The buzz about the president's speeches and charisma has died down. And his supporters are talking more about him delivering on those promises. They're confident he will.
Arline Williams is counting on him. She's out of work.
"Isn't that awful?" she says. "And I have cancer. It's depressing."
Finding Inspiration For A Startup
But Williams is trying not to get down. She has been feeling pretty healthy lately, so she's trying her hand at a startup business. She wants to make it easier for people in the hospital to stay in touch with friends and relatives by helping them open temporary e-mail accounts.
Williams came up with the idea when she was a cancer patient. "When I was in the hospital, sick and going through my treatments, I would e-mail my relatives back east," she says. She wants everyone to have that chance.
It was Obama, she said, who gave her the confidence to take this leap. The president has vowed to help small businesses survive. And Williams took his message to heart.
There's a lot riding on this for her. She has a severance package from the slot machine manufacturing company she worked for. It covers her medical insurance — thus, her chemotherapy — for one year.
"And then I'll have to figure it out," she says. "Hopefully, my business will take off. Then I can buy my own insurance."
Back To The Game
Enough bothering people about the economy. I could tell all the fans I approached were eager to get back to baseball — including Williams.
"Isn't this fun!" she says of the new stadium, the sunshine, the day.
The actual score could have turned out better. The Aces were trounced by Colorado Springs, 16-8. But despite the drubbing, very few fans left their seats until the end.
They seemed to be savoring something.