On The Economy, Obama Gets Mixed Marks
On The Economy, Obama Gets Mixed Marks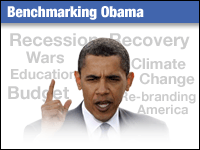 Series Overview
Chris Hondros/Getty Images
The Obama Tracker
NPR's Obama Tracker charts significant events and developments in the new administration, and actions the president takes as he settles into the job.
On Wednesday, President Obama will have been in office for 100 days. All this week, NPR is looking at the new administration and measuring its progress against the goals and benchmarks Obama himself laid out.
The president's most immediate challenge as he took office was finding a way to stabilize the economy and lift it out of a severe recession.
The habit of assessing a president's accomplishments after his first 100 days in office goes back to the first administration of Franklin D. Roosevelt. In his first 100 days, Roosevelt laid the foundations for the New Deal. It's an impossible standard to meet, says former Federal Reserve vice chairman Alan Blinder.
"I often say that Roosevelt cursed future presidents with the 100 days concept. ... It's just too short," Blinder says.
In normal times, new presidents can't hope to match Roosevelt's accomplishments. In that regard, Obama has an advantage. These aren't normal times. In fact, they're the most challenging economic times since the Great Depression. So challenging, says Douglas Holtz-Eakin, John McCain's former top economic adviser, that Obama began to influence economic policy even before he was inaugurated.
"This is the longest first hundred days, at least in my lifetime," Holtz-Eakin says. "President Obama actually became the leader right after his election."
Beyond A Stimulus
He says Obama should get high marks for boosting confidence and providing guidance on economic policy during that period. In fact on Jan. 8, nearly two weeks before he was inaugurated, Obama set some benchmarks during a speech at George Mason University as he outlined his stimulus proposal — "a plan I'm confident will create or save over 3 million jobs over the next few years," he said.
It was not just a plan to briefly stimulate the economy, but a plan to fund some of the proposals Obama emphasized in his campaign.
"And that's why we'll invest in priorities like energy and education, health care and a new infrastructure that are necessary to keep us strong and competitive in the 21st century," he said.
Obama said the stimulus needed to be around $800 billion. And on Feb. 17, the president signed a stimulus package worth $787 billion that had passed Congress on a party-line vote. That was a disappointment for Obama, who failed to generate the bipartisan cooperation he had called for during his campaign. But the bill funds virtually all of the president's priorities.
An 'Incomplete' Grade
Blinder, now a professor at Princeton, says he would grade the administration's performance on turning the economy around in its first 100 days a "high incomplete."
"I give them quite high marks for getting a pretty decent, though certainly not perfect, stimulus bill, large in magnitude and reasonably constructed through Congress very quickly. That was an achievement. The reason it's an incomplete is that the execution is almost entirely in the future."
Only a tiny portion of stimulus spending has gotten into the economy's arteries so far, Blinder says. But the Obama tax cuts started kicking in on April 1. They should provide a boost to the economy.
As for the forecast of 3 million jobs created or saved, Blinder says it's a reasonable estimate.
An Unaffordable Trajectory?
Holtz-Eakin says it's almost impossible to tell. He does give Obama credit for quick passage of the stimulus package and says it will boost growth.
"The criticisms are, really, twofold," Holtz-Eakin says. "No. 1, we could have done better for the money we spent, and I believe that deeply. No. 2, instead of being temporary and designed to help recovery, it contains too much long-term spending and sends us on a trajectory we can't afford."
Even given those criticisms, though, Holtz-Eakin says the administration deserves a lot of credit.
"I, for one, can identify lots of warts, but this country is in a better position now than it was a hundred days ago," he says.
Holtz-Eakin says there ought to be a second review in another 100 days to assess whether the Obama administration has addressed some of the flaws in its policies which were, of necessity, made in great haste.