Japanese Couples Turn To U.S. For Nuptial Savings
Japanese Couples Turn To U.S. For Nuptial Savings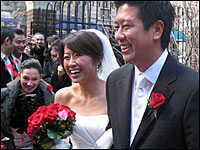 A traditional Japanese wedding often costs at least $100,000, but over the past decade, thousands of Japanese couples have opted for a cheaper alternative: getting married in the United States.
If you wander into the very formal conservatory gardens in New York's Central Park you will often see wedding couples being photographed, the bride in her white gown, the groom in his tux, a white limousine waiting nearby. A surprising number of these couples are Japanese. And if they only invite their immediate family and a few friends to come over with them, it's much cheaper than a traditional wedding at home.
The Rev. Dick Leonard, minister emeritus at the Unitarian Church of All Souls in New York City, remembers when it all started for him. He had married a few Japanese couples, but after he performed a double wedding that included the son of one of Japan's leading movie stars, everything changed. His church, All Souls, was written up in Japanese travel guides, and he found himself doing 120 to 160 weddings a year.
"I have now married about 600 Japanese couples," he said. "I send out almost 500 anniversary cards every year, and we have had three parties in Japan for the couples who have been married at All Souls Church."
New York City is only the second favorite place in America for Japanese couples. The first is Hawaii, which has perfect weather and is much closer to Japan. But New York has that Sex in the City allure.
Leonard says that even if you add on a honeymoon, a marriage in the U.S. costs less than what these couples could afford in their homeland. Because of the traditions of obligation in Japan, most Japanese weddings include a huge, expensive party. Everyone must be invited: friends, relatives, business associates. Then there are often many outfits to buy, from traditional to modern.
A very small percentage of Japan's population is Christian, but church weddings have become extremely popular. Recently, Leonard was preparing for the wedding of Shuhei Tajima and Akiko Sasaki. It was a larger wedding than usual. Tajima works in the finance industry, has lived in the United States for many years and speaks English fluently. He met Sasaki, a television newscaster, in Japan, but they have lived in New York City for two years. So this wedding has 90 guests, since they have had time to make many friends and associates.
Sasaki says she had no idea that All Souls had a reputation for Japanese weddings. She just "loved the place. It was clean and bright and so cute."
Leonard says the hardest part of an American wedding for Japanese couples is to speak the traditional ring ceremony: all those words with "th."
As Leonard describes it, "Twelve words that could hardly be harder for any Japanese to say when you think about them: With this ring I thee wed and pledge thee my faithful love." Leonard used to suggest couples do it in Japanese, but everyone wanted to do it in English. So the couples practice.
Sasaki, whose English is somewhat limited, says that Tajima would make her practice pronunciation every night before bed. "We wanted to be prepared and not make any mistakes," Tajima said.
At the wedding, when it came time for the ring ceremony, all that practice paid off. Sasaki said the words almost flawlessly. After the ceremony, the couple walked out of the church, and the guests cheered and threw rose petals.
Tajima and Sasaki plan to move back to Japan next year. And because of Sasaki's profession as a TV newscaster, both say they will not be able to avoid the big, expensive reception with friends, family, business associates and even politicians. How big? Sasaki laughs and says, "300? 500? Yes, big."