Beyond The Kitchen Table: Sorting Finances Online
Read the All Tech Considered blog, where Omar Gallaga, who covers technology culture for the Austin American-Statesman, has more on personal finance software.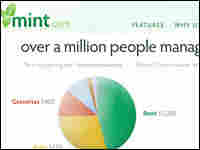 In my household, there are so many things that seem like more fun than managing our finances. For example, when I approached my fiance, Joel, about signing up for an online financial management program, he was very busy playing video golf.
"Can I just finish this round?" he asked. "I'm playing better than I've ever played."
Financial slackers like us are among the people sites like Mint.com are designed to help. It's one of several free financial planning services that have cropped up on the Web recently.
"It basically puts your finances on autopilot," says Aaron Patzer, who founded the company.
Patzer says two years ago he became frustrated while trying to use a program designed to manage finances. So he locked himself in a room for seven months, worked seven days a week and emerged with the core algorithms behind Mint.
Once you've created an account, Mint sorts out your finances. It draws simple charts that help show you where the money is going. It prompts you to pay your bills on time, and suggests ways to make the most of credit card incentive programs.
Some professional financial planners say programs like this can be a useful tool, but they don't do the really hard work. For Joel and me, rounding up our financial documents and putting them into the database was time-consuming.
And then there's the psychological side of finances.
"It's just data," says Monique Tilford, who runs a nonprofit money management program called Your Money Or Your Life. "You have to have someone on the other side asking the right questions."
Tilford says her program helps people set financial goals, and that means taking an honest look at their finances. That's something Mint doesn't necessarily prompt people to do, she says.
Take someone who has an issue with alcohol, for example. "If you put in how much you're spending on alcohol, that's under groceries. You're not going to see it," Tilford says.
I finally persuaded Joel to use Mint to take a close look at our spending habits, including how much we were spending on eating out. That number ended up being better than we thought it would be. Joel confessed that he had been avoiding looking at it. "Turns out, had I done that earlier, I would not have felt bad at all," he told me.
Patzer says Mint is introducing tools to help people address emotional barriers to financial health. Soon the company will add an incentive program that eases people in to asking bigger financial questions. The program rounds up data, charts it and prompts users to set goals. When they reach those goals, they are rewarded with points.
Patzer says the incentive program will be optional. He doesn't want to lose customers who can't bring themselves to come clean about where their money is going.