Recipes: 'The Backyard Bartender'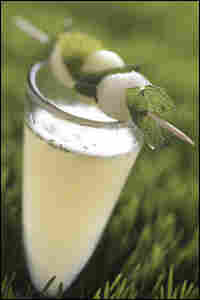 Back to Main Story
Get more recommendations from T. Susan Chang.
These recipes appear in The Backyard Bartender by Nicole Aloni, Clarkson Potter 2007.
The Lawn Mower
Makes 2
Glass: Chilled martini or flute
Garnish: Melon balls and mint leaves on a skewer
Delicate melon, mint, and a hint of vanilla make this into a silky textured refresher. The Lawn Mower would be perfect at an engagement party or as a signature drink at a summer wedding.
1 cup diced, ripe honeydew, cantaloupe, or seedless watermelon
1 ounce premium vanilla vodka (like Stoli Vanil)
1/2 ounce Cointreau
3/4 ounce fresh lime juice
1 tablespoon roughly chopped fresh mint
About 1/2 cup cold brut Champagne or dry sparkling wine
Puree the melon in a blender (add 1 or 2 tablespoons of water if necessary). Press the melon mixture through a strainer into a cocktail shaker filled with ice. Add the vodka, Cointreau, lime juice, and mint. Shake vigorously to infuse. Strain the mixture into the chilled glasses and top with Champagne float. Stir once. Garnish.
Makes 1
Glass: Chilled martini
Rim: Pomegranate molasses and sugar
Garnish: Kumquat or star fruit slice
The Smack showcases the exotic and seductive taste of pomegranate molasses — one of the decade's new super ingredients found in everything from salad dressing to cheesecake. This zingy martini was created by Matt Skeel, the gifted bar manager at Serafina restaurant in Seattle.
3 ounces vodka
1 tablespoon pomegranate molasses
1/2 ounce fresh lemon juice
1 tablespoon simple syrup
Splash of soda water, optional
Use your finger to smear a thin coating of the pomegranate molasses on the rim of the glass. Press the rim into a saucer of sugar. Fill a cocktail shaker three-quarters full with ice. Add the vodka, pomegranate molasses, lemon juice, and simple syrup. Shake to chill. Strain the drink into the chilled glass. Garnish.