Change In U.S. Swine Flu Transmission Suspected
The Latest From The CDC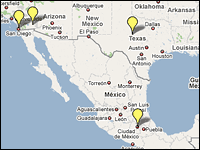 In Depth
Carrie Kahn Reports On Developments In Mexico On Morning Edition
Web Resources
The World Health Organization says it suspects that U.S. swine flu patients may have transmitted the virus to others in the United States — which, if confirmed, would signal that the new flu strain is spreading beyond those travelers returning from Mexico.
Most people confirmed to have swine flu so far were infected in Mexico, the global health agency says. But WHO spokesman Gregory Hartl said Tuesday that the source of some infections in the United States, Canada and Britain is unclear.
The WHO comments came a day after the agency raised its global pandemic alert level and as more human cases of swine flu were being confirmed worldwide.
The WHO said Monday the swine flu outbreak has reached Phase IV on its six-point pandemic alert scale. That means swine flu is occurring in community clusters and that the risk of a pandemic is increased but is not a forgone conclusion.
"This signifies that we are another step closer" to a pandemic, said Dr. Keiji Fukuda, assistant director-general of the WHO. "But we are not there yet. The situation could change."
Seven Countries Now Affected
The alert escalation set off gyrations in financial markets, as countries began issuing travel advisories. Airlines began loosening restrictions on tickets in and out of Mexico, the hardest-hit country. Homeland Security Secretary Janet Napolitano said Tuesday that "passive surveillance" of the U.S. border with Mexico is sufficient and that tougher monitoring measures are not yet necessary. She noted that experts have said tougher border monitoring "would be marginal" in terms of containing the spread of the virus.
Meanwhile, the number of swine flu reports continued to rise — albeit mostly in the single digits outside Mexico.
Spain, Scotland and Israel all reported two confirmed cases as of Tuesday afternoon, while New Zealand had three cases, bringing the total number of countries with confirmed cases of swine flu to seven. Canada's confirmed case count remained at six.
There have been no deaths in the United States, but the case count had more than tripled to 68 as of Tuesday afternoon. New York reported 17 new cases, for a total of 45, and Indiana confirmed its first case. California had 13 cases, while Texas had six, Kansas had two and Ohia had one. The U.S. Centers for Disease Control and Prevention said Tuesday that the latest count includes "a number of hospitalizations."
In Mexico, officials estimate the number of serious cases at 2,000 — though few have been confirmed as swine flu. As of Tuesday, swine flu is known to have killed 20 people there and possibly as many as 129 more.
These numbers have been fluctuating since the outbreak became known Friday, which continues to vex public health experts who are trying to predict the future.
Uncertain Death Rate
To estimate how dangerous the outbreak is, scientists need to calculate something called the "case-fatality ratio." This would allow them to determine how many people might be expected to die or develop pneumonia if they catch swine flu.
So far, the calculation seems out of reach because of the uncertainties in the Mexico count. A U.S. official told NPR that one big problem is that very few samples have been collected from people in Mexico who have developed the most severe cases — and samples have not been collected from those who had mild cases.
That has slowed down the medical-detective work considerably, said the source, who requested anonymity so as not to disrupt the delicate behind-the-scenes negotiations that are a part of every international health investigation.
The source added that the case count could become firmer soon, now that WHO, U.S. and Canadian experts are on the ground in Mexico. They brought in the required testing materials and started gearing up Friday.
Fukuda seemed to echo this scenario in his remarks Monday. "It is possible that as the situation evolves over the next few days, it could appear that we have passed into Phase V," he said. Phase V would mean many more cases and that a pandemic is indeed "imminent."
"It's also possible that the disease situation could be quieter, and we could move backwards to Phase III," he said.
Such is the uncertainty of the situation that even the world's experts just can't say for sure what will happen next.
No Change In U.S. Alert Level
The United States has its own alert system for pandemics, but Monday's action by the WHO did not prompt a change in the current U.S. alert level, which remains at 0 on a scale of 0 to 6, with 4 being the first reported case in North America and 5 being spread across the U.S.
Officials were questioned repeatedly Sunday and Monday as to why the U.S. isn't scaling up its alert yet, when it is clear there have been cases here. They responded by saying they had acted even before they took the time to change the alert board.
"It doesn't really matter what you call this," said Richard Besser, acting CDC director. "Our actions are based on what's taking place in our country." He said the government is predicting and preparing for more illnesses and even deaths in the U.S.
On Sunday, the Department of Homeland Security released 11 million doses of flu-fighting drugs from a national stockpile. State and local health departments will decide how, when — and whether — to distribute them.
The Food and Drug Administration has issued emergency guidance that allows certain antiviral drugs to be used in a broader range of the population in case mass dosing is needed to deal with a widespread swine flu outbreak.
The agency originally approved the use of the antiviral drug Tamiflu for the prevention and treatment of influenza in adults and children ages 1 and older. Another antiviral drug, Relenza, was originally approved to treat people 7 and older and to help prevent flu in those 5 and older.
Late Monday, the FDA said it issued emergency guidance to allow Tamiflu to treat and prevent flu in children younger than 1 and to provide doses other than originally approved in children older than 1. The drugs may be distributed to larger segments of the population without complying with the approved label requirements, the FDA said.
The agency also authorized a swine flu diagnostic test for testing samples from people with certain flu infections whose virus subtypes cannot be identified by currently available tests.
NPR wire services contributed to this report.