Auto Ads Decline In Step With Industry Woes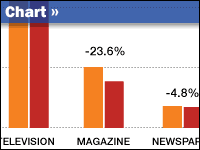 For a long time, the three biggest buyers of TV commercial time were fast food, pharmaceuticals and cars. So for the advertising industry, the ripple effect of the automotive industry's trouble has been more like a tidal wave.
For decades, car manufacturers specialized in slick, expensive commercials that all looked the same: the shiny sedan winding its way around a gorgeous landscape while a deep voice intoned its stylishness.
"They're like mini Hollywood movies in which the car is the star," says Warren Berger, author of the book Advertising Today. Car companies flooded TV screens with these expensive look-alike ads. And TV networks made a lot of money from them.
On the high end, a network hit like American Idol typically charges more than a half-million dollars for a 30-second spot. But since automakers' fortunes have declined, they've pulled way back on their ad purchases.
"The TV industry, in particular, has been really hit hard. If you're used to getting $3 billion in advertising and that suddenly gets cut, that's a huge deal," Berger notes. For instance, at General Motors' Saturn division, the cut in the ad budget is drastic. Saturn sales are down 50 percent — and so is its ad spending, according to Kim McGill, director of advertising at Saturn.
"It's a difficult time to be in the car business right now, for sure," McGill says.
GM announced that Saturn was very likely one of the brands it would either discontinue or sell off. However, there are still more than 350 Saturn dealerships around the country. So Saturn tried to get a positive message out with an ad campaign, called "We're Still Here," featuring individual dealers.
"People are buying about half as many cars today as they were just a short time ago," says Eric Hirshberg, whose ad agency, Deutsch LA, created the campaign for Saturn. "Now advertisers, both brands and agencies, are in the position of not just having to convince people, 'Hey when you buy a new car, buy ours,' but we have to convince them to buy a new car, period."
At the local level, dealerships buying ads have been an important source of income for TV and radio stations, newspapers and billboard companies.
John Marlow of Marlow Motors in Front Royal, Va., has been selling cars for more than 40 years. He says sales are down about 15 percent over the past year, so he is looking for the biggest bang for his buck when it comes to advertising. That means moving the dollars the dealership used to spend on newspapers and TV to other media. Marlow is planning a promotion for next month.
"We know we'll use radio," Marlow says. "We know we'll use the Internet because it gets more measurable results than newspapers. With a half-page, quarter-page ad in the paper, we're not sure if we get anything for this or not."
Magazines have been hurt, too, by the trend of moving ad dollars from traditional print media to the Web, which is cheaper.
"The automotive advertisers are pulling a lot of money out of advertising and it's affecting magazines along with all media," says Ellen Oppenheim of Magazine Publishers of America. According to Nielsen, auto advertising in national magazines fell 24 percent from 2007 to 2008.
At least one car company is actually spending more on advertising: Hyundai. Around the business, professionals point to Hyundai as first to directly address people's fears about buying a new car during the recession. The automaker has a promotion allowing you to return your car if you lose your job. Sales for Hyundai are up slightly.
Now other auto companies are making similar offers in their advertising. They're just spending a lot less to do it.