Navy Chef Gets Creative With A $10 Skate Meal
Navy Chef Gets Creative With A $10 Skate Meal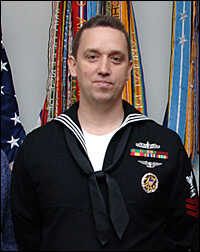 Courtesy of the U.S. Navy
'How Low Can You Go'
The challenge: Feed a group of four for less than $10. Bonus points for dishes that seem more expensive. All Things Considered will talk to the creators of some of the favorites and may feature them on the radio.
For NPR's "How Low Can You Go" family supper challenge, some of the nation's best cooks have each agreed to come up with a budget-conscious, delicious meal for a family of four. The hitch? The meal must cost less than $10 — and the cheaper the better.
Navy chef Michael Edwards, who has won the title Armed Forces Chef of the Year, cooked a sauteed skate meuniere with potato gnocchi and cream of asparagus soup for his meal.
Edwards, a culinary specialist first class, says skate is "the most tender, succulent fish there is."
"We used it in meals, and people are just blown away by it," Edwards says.
Edwards says he spent $9.75 on his meal.
An enlisted aide to Adm. Michael Mullen, the chairman of the Joint Chiefs of Staff, Edwards not only cooks for the admiral, but also for the dignitaries who visit with him.
Edwards joined the Navy shortly after Sept. 11, 2001, because a recruiter told him the food in the Navy was better than Army food. Before that, he ran a vegetarian catering company.
Fine dining is now Edwards' specialty, but his military career didn't start with amuse-bouche or vichyssoise. He cooked for thousands of sailors aboard the aircraft carrier the USS John C. Stennis. Edwards says the cooks use massive steam kettles — also called large coppers.
"You have a row of them, so that the person who's good at that has a metal paddle, and they call them the copper king," Edwards says. "They just put out enormous food four times a day. ... I never made it to copper king; I was a copper king apprentice. It's very impressive how much food they put out and what they're capable of doing."
"Creativity lies in making outstanding food with very simple ingredients," Edwards says.
Cream of Asparagus Soup
Serves 4

1/2 pound fresh asparagus
1/2 cup chopped onion
2 tablespoons butter with salt
2 tablespoons all-purpose flour
2/3 cup water
1 1/3 cup hot milk
1/3 teaspoon salt
1/8 teaspoon white pepper

Snap off and discard tough asparagus bottoms and break off the asparagus tips. Slice the stems and sweat with onion in butter until the onions are translucent. Sprinkle with flour and cook over a low heat for 10 minutes. Add water while stirring constantly and continue to cook until thickened, and flour cooks out.
Blend soup with milk. Strain and season. Add salt and pepper. Heat gently but don't boil. Saute asparagus tips in butter until tender and add to soup.
Courtesy of Michael Edwards.
Potato Gnocchi
Serves 4

1 1/3 pounds potatoes
4 tablespoons grated Parmigiano-Reggiano cheese
2/3 cup all-purpose flour
2 egg yolks
1 1/2 teaspoons salt
2 pinches ground nutmeg
2 pinches pepper
Prep time: 45 min
Heat oven to 400 degrees Fahrenheit.
Bake potatoes until tender. Scoop out potato flesh and place in a potato ricer. Rice onto a board and stir in cheese, 1/2 cup of the flour, egg yolks, nutmeg, pepper and half the salt. With a dough knife, add in the remaining flour until smooth, being careful not to overwork the dough. Roll into a 1-inch thick rope. Cut into 3/4-inch pieces and place on lightly floured wax paper. In large saucepan, bring water to a boil; add gnocchi and remaining salt to boiling water. Cook until gnocchi rise to the surface. Remove gnocchi and hold in warm butter until use.
Courtesy of Michael Edwards.
Sauteed Skate Meuniere with Potato Gnocchi
Serves 4

4 skate wings, 5 ounces each, skinned and filleted
3/8 teaspoon salt
1/5 teaspoon black pepper, freshly ground
Flour, as needed
4 ounces butter
3/4 fluid ounce lemon juice
1 1/4 tablespoon parsley, chopped

Season the skate with salt and pepper.
Dredge in flour, shaking off any excess.
Heat a saute pan to medium-high, add half the butter, and saute the skate about 3 minutes per side or until the flesh is opaque and firm (145 degrees Fahrenheit). Remove the skate from the pan and keep warm on heated plates while completing the sauce.
Pour off the excess fat from the pan and wipe the pan clean. Add remaining butter; cook until the butter begins to brown and has a nutty aroma.
Add the lemon juice and swirl the pan to deglaze it. Add gnocchi.
Add the parsley and immediately pour or spoon the pan sauce over the skate. Serve the skate and gnocchi at once.
Courtesy of Michael Edwards.