Obama Holds Town Hall Meeting
President Obama traveled to St. Louis for a town hall meeting to mark his 100th day in office. Questions dealt with the economy, health care, social security and the environment.
ROBERT SIEGEL, host:
From NPR News, this is ALL THINGS CONSIDERED. I'm Robert Siegel.
MICHELE NORRIS, host:
And I'm Michele Norris. Today is President Barack Obama's 100th day in office. Officially, the administration dismisses the milestone as what it calls a Hallmark holiday, but this morning, the president traveled to Missouri for a town hall meeting to mark the event. He'll also hold a primetime news conference at the White House this evening. NPR's Don Gonyea reports that the day resembled many others for the new administration, as the president dealt with yet another crisis.
DON GONYEA: In many ways, this 100th day has been the typical day for President Obama. Since moving to the White House, he's won solid public approval ratings. He's had successes in Congress. And today, he was very pleased to pose for pictures with Republican-turned-Democrat US Senator Arlen Specter of Pennsylvania.
President BARACK OBAMA: In fact, I'd like to think that Arlen's decision reflects a recognition that this administration is open to many different ideas and many different points of view, that we seek cooperation and common ground.
GONYEA: But for Mr. Obama, such good news has always been accompanied, even overshadowed, by crisis: the economy, banks, the auto industry, two wars, North Korea, Iran and even pirates. Today's upbeat photo op with Senator Specter also took a serious turn, with the president addressing the swine flu outbreak, including confirmation of the first US death in Texas.
Pres. OBAMA: My thoughts and prayers and deepest condolences go out to the family, as well as those who are ill and recovering from this flu. This is obviously a serious situation, serious enough to take the utmost precautions.
GONYEA: Also today, more bad news on the economy: The GDP declined by 6.1 percent, worse than expected. As Air Force One took off from Washington this morning, Press Secretary Robert Gibbs said that number may mean hundreds of thousands of additional jobs lost. That was the backdrop of the town hall meeting in the St. Louis suburb of Arnold, Missouri.
(Soundbite of song, "The Star-Spangled Banner")
The RIVERTOWN BARBERSHOP QUARTET (Barber Shop Singers): (Singing) Oh, say can you see, by the dawn's early light?
GONYEA: The Rivertown Barbershop Quartet sang the national anthem. The president was introduced by a woman who works as a hairdresser and who said her vote for him was her first for a Democrat in more than 30 years. Taking the stage, the president described his first months in office this way.
Pres. OBAMA: So today, on my 100th day in office, I've come back to report to you, the American people, that we have begun to pick ourselves up and dust ourselves off. And we've begun the work of remaking America.
GONYEA: He pointed to the economic stimulus, to his call for tough regulations on financial institutions. He spoke of the plan to remove combat troops from Iraq and the increase in forces for Afghanistan. He highlighted his ban on torture and the closing of the US detention center at Guantanamo.
Pres. OBAMA: Now, we're living through extraordinary times. We didn't ask for all the challenges that we face, but we're determined to answer the call to meet them. That's the spirit I see everywhere I go. That's the spirit we need to sustain.
GONYEA: Then it was time for questions. The first was one Mr. Obama has been asked repeatedly. It came from a retired autoworker. The man said it seems like workers are paying a price, but not Wall Street execs. He was echoing the thoughts of many blue-collar Americans.
Unidentified Man: We're also considered middle class. It just seems like they keep constantly wanting to take it away from the autoworker and prosecuting us instead of the corporate that brought us to this.
GONYEA: The president said he wants the US to have a car industry, but he also said he hasn't yet seen viable plans from GM and from Chrysler.
Pres. OBAMA: What they were doing wasn't painting a picture of how they could be viable over the long term, without being wards of the state. And frankly, there's no way that we were going to get taxpayers to just, every few months, just give a few more billion dollars because there are a lot of industries that would love to have those kinds of subsidies.
GONYEA: The president took a total of six questions in all. Most dealt with domestic issues, including the economy, health care and Social Security. A fourth grade girl asked about the environment. The answers were lengthy, some echoing his campaign speeches, going back two years. Mr. Obama's 100th day continues with a primetime news conference at the White House tonight.
Don Gonyea, NPR News, St. Louis.
NPR transcripts are created on a rush deadline by Verb8tm, Inc., an NPR contractor, and produced using a proprietary transcription process developed with NPR. This text may not be in its final form and may be updated or revised in the future. Accuracy and availability may vary. The authoritative record of NPR's programming is the audio record.
Obama Gears Up For 100-Day Progress Report
Listen To Live NPR Coverage Starting At 8 p.m. EDT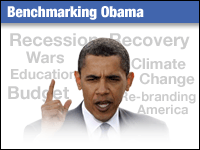 The Obama Tracker
NPR's Obama Tracker charts significant events and developments in the new administration and actions the president takes as he settles into the job.
President Obama will mark his 100th day in office Wednesday with a prime-time news conference updating Americans on his administration's progress on the economy, health care and Iraq.
He plans to take to the airwaves at 8 p.m. EDT from the East Room of the White House.
White House spokesman Robert Gibbs said Monday he would give the administration a B+ on its 100-day report card, adding that the president and his advisers are happy with the progress they've made.
"I think there's always room for improvement, but I think, largely, I think the president and the administration are pleased with what has been done in the first hundred days," Gibbs said at Monday's press briefing.
Gibbs cited the passage of the economic stimulus plan, improved flow of credit and increased financial stability as some of the administration's chief accomplishments.
Obama's first 100 days have been a whirlwind, with the new president acting quickly to make good on some campaign promises, tackle economic problems and signal changes in foreign policy. Some milestones in the president's first 100 days have been:
• Announcing that he would close the U.S. military prison at Guantanamo Bay, Cuba
• Passage of the $787 billion economic stimulus package
• Releasing a video message to the people of Iran
• Holding a town hall meeting at the White House and on the Internet
• Announcing deployment of 4,000 military trainers to Afghanistan
• Lifting restrictions on federally funded embryonic stem cell research
• Visiting Iraq
• Easing restrictions on Cuban-Americans' travel and remittances to Cuba
But Gibbs said the American people are not likely to spend a lot of time thinking about what has been done in the first 100 days because they are more concerned about seeing continued progress.