Obama Pleased With Progress But Not Satisfied
To mark his 100 days in office, President Obama held a prime-time news conference Wednesday. It was the third news conference of his presidency and the first not dominated by the recession. The president promised to keep up the whirlwind pace.
RENEE MONTAGNE, host:
It's MORNING EDITION from NPR News. Good morning, I'm Renee Montagne.
STEVE INSKEEP, host:
And I'm Steve Inskeep. He may have said the hundred-day milestone is irrelevant, but that did not stop President Obama from embracing it. And even if the exact date doesn't matter, the general concept does. Several modern presidents, though not all of them, had their biggest legislative achievements relatively early in their terms. President Obama marked his hundredth day with a town hall meeting in Missouri, a swing state he narrowly lost in November. He held a prime-time news conference too. Here's NPR's national political correspondent, Mara Liasson.
MARA LIASSON: One hundred days is less than one-tenth of a presidential term, but Washington is obsessed with measuring the Obama presidency to date. And the president himself joined in yesterday, ticking off a list of accomplishments -his economic stimulus bill, a new direction in foreign policy, a $3.6 trillion budget, and plans on the table to reform health care, energy and financial re-regulation.
President BARACK OBAMA: I think we're off to a good start. But it's just a start. I'm proud of what we've achieved but I'm not content. I'm pleased with our progress but I'm not satisfied.
LIASSON: Mr. Obama is satisfied, however, with the latest political development. Pennsylvania Republican Arlen Specter just switched parties, increasing the Democrats' majority in the Senate to 59. It's likely that in a few months Democrat Al Franken will win the contested Senate race in Minnesota. That will give the Democrats and the president 60 votes in the Senate, enough to cut off a Republican filibuster. And armed with that new-found clout, Mr. Obama described a new approach to bipartisanship, one on his terms.
Instead of meeting Republicans in the middle, the president offered the opposition a collaborative but definitely subordinate role in passing his agenda. He said he wasn't interested in Republican ideas that have been repudiated by the voters in the last election.
Pres. OBAMA: If on the other hand the definition is that we're open to each other's ideas, there are going to be some differences, the majority will probably be determinative when it comes to resolving just hardcore differences that we can't resolve. But there is a whole host of other areas where we can work together, then I think we can make progress.
LIASSON: President Obama has had so many crises to deal with since he was elected. The latest is swine flu, which is spreading around the world and may soon be classified a pandemic. Mr. Obama repeated his message that the flu is a cause for deep concern but not panic. And he offered this reassuring bit of public health advice.
Pres. OBAMA: Wash your hands when you shake hands. Cover your mouth when you cough. I know it sounds trivial, but it makes a huge difference. If you are sick, stay home. If your child is sick, keep them out of school. If you are feeling certain flu symptoms, don't get on an airplane, don't get on any system of public transportation where you're confined and you could potentially spread the virus.
LIASSON: The president engaged his critics on what is probably the single most controversial decision he's made so far - releasing the Bush Justice Department torture memos.
Pres. OBAMA: I am absolutely convinced it was the right thing to do. Not because there might not have been information that was yielded by these various detainees who were subjected to this treatment, but because we could have gotten this information in other ways, in ways that were consistent with our values, in ways that were consistent with who we are.
LIASSON: There's a raging debate about whether, as the president argues, the release of the memos made the country safer, or as former Vice President Dick Cheney alleges, more vulnerable. Mr. Obama was also asked about Pakistan. He described the government there as very fragile, but he said he was confident that Pakistan's nuclear arsenal would not fall into the hands of the Taliban. On domestic issues he reiterated his desire to find a kind of middle ground on abortion. And he probably disappointed pro-choice advocates when he stated flatly that the Freedom of Choice Act was, quote, "not my highest legislative priority."
And he may also have disappointed Hispanics when he declined to call for an immigration reform bill this year, saying instead his goal for the year was merely to move the process forward. The president also described the role he wants the government to play as it becomes the majority shareholder in auto companies and financial institutions.
Pres. OBAMA: I don't think that we should micro-manage, but I think that like any investor, the American taxpayer has the right to scrutinize what's being proposed and make sure that their money is not just being thrown down the drain. And so we've got to strike a balance.
LIASSON: This is a tricky subject for Mr. Obama. Nationalization in any form is deeply unpopular.
Pres. OBAMA: I want to disabuse people of this notion that somehow we enjoy, you know, meddling in the private sector. If you could tell me right now that when I walked into this office that the banks were humming, the autos were selling, and that all you had to worry about was Iraq, Afghanistan, North Korea, getting health care passed, figuring out how to deal with energy independence, deal with Iran, and a pandemic flu, I would take that deal.
(Soundbite of laughter)
Pres. OBAMA: And that's why I'm always amused when I hear these, you know, criticisms of, oh, you know, Obama wants to grow government. No, I would love a nice lean portfolio to deal with. But that's not the hand that's been dealt us.
LIASSON: Judging by his level of activity and his approval ratings 100 days in, President Obama appears to be playing that hand pretty well.
Mara Liasson, NPR News, the White House.
NPR transcripts are created on a rush deadline by Verb8tm, Inc., an NPR contractor, and produced using a proprietary transcription process developed with NPR. This text may not be in its final form and may be updated or revised in the future. Accuracy and availability may vary. The authoritative record of NPR's programming is the audio record.
Obama Pleased, But Not Satisfied At 100 Days
Mandel Ngan/AFP/Getty Images
Hear, Read the News Conference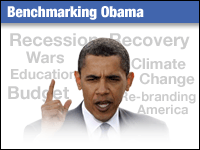 The Obama Tracker
NPR's Obama Tracker charts significant events and developments in the new administration and actions the president takes as he settles into the job.
On the 100th day of his nascent administration, President Obama pronounced himself pleased but not satisfied with the progress the country has made under his leadership.
And when asked Wednesday during his third prime-time news conference what the biggest surprise has been during the first 100 days, the president had a ready answer — one he alluded to throughout the evening.
"The number of critical issues that appear to be coming to a head at the same time," Obama said, ticking off the issues — from bank failures to a flu outbreak — on his full plate. And he said he's also been humbled by the realization that he can't press a button or flip a switch to get Wall Street or Congress to do what he wants.
The most sobering aspect of his early days?
"That change in Washington comes slow," he said, and the "political posturing and bickering" that occurs even when the country is in crisis.
The president also sought to cast himself as a reluctant shareholder of the nation's failing banks and auto companies that have been beneficiaries of federal bailouts.
"I want to disabuse people of this notion that somehow we enjoy meddling in the private sector," he said. "I don't want to run auto companies; I don't want to run banks — I've got two wars to run already."
Saying he is hopeful that troubled automobile company Chrysler will survive, Obama said his goal has been not to provide an umbilical cord that feeds the industries constant subsidies, but to stabilize the sectors until the economy strengthens. And then get out.
Combating The Flu
Obama opened his remarks by addressing the widening swine flu outbreak — referring to the virus as H1N1 — and it was the topic of the first question.
He said that his administration is closely monitoring emerging cases in an outbreak that the World Health Organization has said is approaching a pandemic.
Under questioning, he said he will not at this time call for closing the border between Mexico, the hardest-hit country, and the United States. That would be, he said, "akin to closing the barn door after the horse is out."
"This is obviously a very serious situation," Obama said. "Every American should know that their entire government is taking the utmost precautions and preparation."
The president said he has requested an immediate $1.5 billion to monitor and track the virus and has called on schools with confirmed or suspected cases of the virus to close. He also gave the nation what he characterized as sensible health tips.
"Keep your hands washed, cover your mouth when you cough, stay home from work if you're sick, and keep your children home from school if they're sick," he said.
Specter's Switch
During Wednesday night's hourlong news conference, the president called for a "new foundation" for the nation's struggling economy — one that is stronger than what he characterized as the sand on which it now rests.
But questions veered from the economy to swine flu and torture, to abortion and Pennsylvania Sen. Arlen Specter's blockbuster decision to ditch the GOP and register as a Democrat.
"Having Arlen Specter in the Democratic caucus will liberate him to cooperate on critical issues like health care, infrastructure and job creation," Obama said.
And though Specter's switch Tuesday may have put Senate Democrats within one vote of a 60-vote, filibuster-proof majority, the president said he doesn't anticipate a new rubber-stamp senator.
"But overall, it's a positive," he said.
Addressing Torture
Obama was also pressed on whether he believes that the interrogation technique known as waterboarding, or controlled drowning — signed off on during the Bush administration — constitutes torture.
"I do believe it is torture. That's why I put an end to these practices," Obama said.
The president in recent weeks has authorized the release of Bush-era memos outlining the harsh interrogation techniques that could be used on detainees.
"Waterboarding violates our ideals and our values," Obama said.
During the bombing of London during World War II, the president said, Prime Minister Winston Churchill, a hero to conservatives, said, "We don't torture."
"Churchill understood, you start taking shortcuts, that corrodes what's best in a people," said Obama.
The president has faced fierce criticism from some members of Congress for showing no appetite for investigating authors of the Bush-era torture memos. He has said that decision will be up to the Justice Department.
'Gravely Concerned' About Pakistan
On foreign policy, Obama was questioned about dangers posed by Pakistan, including the threat that its nuclear arsenal could be vulnerable to the Taliban or al-Qaida.
Though the president expressed confidence that the arsenal will be protected by the Pakistani army, he said he is "gravely concerned" about the situation in Pakistan.
"Not because I think that they're immediately going to be overrun and the Taliban would take over," he said, "more concerned that the civilian government there right now is very fragile and don't seem to have the capacity to deliver basic services," including the rule of law and a judicial system.
"We need to help Pakistan help Pakistanis," Obama said.
Questions On Abortion
The president also waded into the divisive issue of abortion after he was questioned about the controversy over his commencement visit to the University of Notre Dame, a Catholic institution.
"I think abortion is a moral issue and an ethical issue," he said, avoiding commenting directly on the furor his Notre Dame visit and honorary degree have evoked among some Catholics. "I think that those who are pro-choice make a mistake when they — if they suggest — and I don't want to create straw men here, but I think there are some who suggest that this is simply an issue about women's freedom and that there's no other considerations."
"I'm pro-choice," the president said, "because I don't think women take that position casually." Women, he said, are in a better position than Congress or the president to make such a decision.
Taking Steps On The Economy
Obama's White House appearance came just hours after both the Senate and the House passed his unprecedented $3.6 trillion budget package — and on the same day that Commerce Department officials reported that the nation's economic output dropped at an eye-popping 6.1 percent annualized rate in this year's early months.
"Even as we clear away the wreckage of this recession, I have also said that we cannot go back to an economy that is built on a pile of sand," Obama said.
That sand, he said, includes inflated home prices, maxed-out credit cards, "overleveraged banks and outdated regulations."
The president lauded the budget as building on "steps we've taken over the last 100 days to move this economy from recession to recovery and ultimately to prosperity." Those steps, he said, include the stimulus legislation and a housing plan to help homeowners refinance mortgages.
Echoing comments he has made frequently in the past, the president said that the economic recklessness of a few threatens the prosperity of all.
100-Day Hype
The White House had taken to referring to the attention lavished on reviews of Obama's first 100 days as a contrivance — a "Hallmark" moment.
The 100-day hype reached critical mass in recent days, with a glut of stories, polls and analysis, and the added drama of Tuesday's announcement by Specter.
The 100-day milestone has not only given the media license to comb through the president's early accomplishments and failures; it has also provided a stark tally of what the new administration has faced in its early months — from swine flu and Somali pirates to an economy that remains deeply troubled, wars in Afghanistan and Iraq, and bitter battles on Capitol Hill.
But top Obama adviser David Axelrod said Wednesday that those challenges will not move the administration away from its expensive and controversial plans to rewrite the nation's health care and energy policies.
Energy and health care "are not luxury items on a wish list," Axelrod told NPR's Michele Norris. They are "essential," he said, to getting the economy moving and the budget under control.
"We are eager to pursue these as part of an integrated economic strategy," he said.
Republican Backlash
Meanwhile, Republicans continued to push back on Obama's economic policies, saying his first 100 days have been littered with broken promises on taxes, spending and bipartisanship. While the president's budget plan passed in the Senate and the House, it did not attract a single Republican vote in either chamber — and former Republican Specter also voted against the president's plan.
Republican leaders have been struggling to frame their opposition to the president in these early months and have been criticized for failing to offer alternatives. The Specter defection simply highlighted the turmoil within the party.
As Obama welcomed Specter to the White House on Wednesday, Republicans stepped up their attack on the Pennsylvania senator, whose prospects for re-election as a Republican next year had begun to look increasingly bleak in the wake of his decision to join two other GOP senators to help pass the president's stimulus bill with a filibuster-proof majority.
"I'm not shedding any tears here," Republican Party Chairman Michael Steele said Wednesday about Specter's defection.
Republican Party leaders had "gone out on a limb" for Specter this year and in 2004 — both times in an effort to help him beat off a challenge by conservative Pat Toomey, Steele told NPR's Robert Siegel.
"And he flipped them the bird," Steele said.
Beyond The Beltway
But with his approval rating hovering around 68 percent — higher than President George W. Bush's at the same time in his administration — Obama continued his habit of taking his message outside the beltway.
During a town meeting midday Wednesday in Missouri, the president was upbeat and spent nearly an hour taking questions. He broke little ground, but he managed to dominate the news cycle as the flu outbreak unfolded and just a day after he promised to campaign for Specter.
Echoing a theme of his inauguration speech, Obama told those gathered at the town hall that the country has "begun to pick ourselves up and dust ourselves off."
"We've got a lot of work to do," he said, "because on our first day in office we found challenges of unprecedented size and scope."
When a questioner identified herself as a licensed acupuncturist and massage therapist, the president interrupted.
"I could use one right now — my back is stiff," he said. "I've been working hard."
And much hard work is ahead: On Wednesday night, the president said that it will require an "unrelenting, unyielding effort" from his administration to get credit flowing, to help families faced with job losses and to not only confront threats of high deficits, but terrorism and pandemic flu.
"It is work," he said, "that will take time."