The Neelys Get Playful With A $9 Mac 'N' Cheese
The Neelys Get Playful With A $9 Mac 'N' Cheese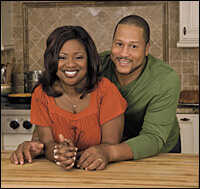 'How Low Can You Go'
The challenge: Feed a group of four for less than $10. Bonus points for dishes that seem more expensive. All Things Considered will talk to the creators of some of the favorites and may feature them on the radio.
For NPR's "How Low Can You Go" family supper challenge, some of the nation's best cooks have each agreed to come up with a budget-conscious, delicious meal for a family of four. The hitch? The meal must cost less than $10 — and the cheaper the better.
Pat and Gina Neely own Neely's Bar-B-Que in Memphis, Tenn., and host the popular Food Network show called Down Home With The Neelys.
Now culinary superstars, the Neelys are also releasing their cookbook, Down Home with the Neelys: a Southern Family Cookbook in May.
But before they hit the big time, both Pat and Gina grew up in households where their families had to come up with all kinds of creative ways to stretch the grocery budget.
"We didn't have a lot of money, from Gina's family and mine," Pat says. "And we all played football — me and my brothers — and my mother cooked big hearty meals, so it was always stews and spaghettis and all types of casseroles and all of these very economical dishes that were passed down from my grandmother to my mother. And now Gina and I are cooking 'em, and we're cooking 'em for our girls as well."
Because the Neelys grew up having to think about money, Pat says the NPR challenge wouldn't "be any problem."
"You can bank on that," he says. "We were doing this challenge long before you guys even starting having it, because we grew up on those kind of dishes."
For the challenge, the Neelys chose to cook a twist on mac 'n' cheese called cheesy corkscrews with crunchy bacon topping — what they call "down-home comfort food."
"It is an incredible way of taking a simple mac 'n' cheese recipe and putting your own spin on it," Pat says.
By their calculations, the Neelys spent $8.96.
Pat says the dish, which he says is simple to make, can be eaten as a side dish or an entree.
Besides macaroni and cheese, another way to be economical, says Gina, is to make big pots of stews and soups.
"Those are dishes that you can make a big pot of. It doesn't matter who drops in, who comes over, there's always plenty to go around," Gina says.
Cheesy Corkscrews With Crunchy Bacon Topping
Serves 6 to 8
Pat Neely says that while he was growing up in Memphis, Tenn., everyone had their own special mac and cheese recipe. He says a piquant, cheesy white sauce and a crispy topping made from potato chips and bacon creates the best — and most indulgent — version of mac and cheese that her family has ever tasted.
Cheesy Corkscrews
6 tablespoons butter, plus more for greasing
Kosher salt
1 pound cavatappi (or other tubular pasta)
1/2 cup all-purpose flour
4 cups whole milk, warmed
1 teaspoon dry mustard powder
1 teaspoon salt
1/4 teaspoon freshly ground black pepper
1/4 teaspoon cayenne pepper
Pinch freshly grated nutmeg
Dash hot sauce
Dash Worcestershire sauce
4 cups grated sharp white cheddar cheese
1 1/4 cups grated Pecorino Romano cheese

Crunchy Bacon Topping

1 1/2 cups crushed potato chips
1/2 cup grated Pecorino Romano cheese
5 slices cooked bacon, crumbled
3 tablespoons chopped fresh flat-leaf parsley

Heat the oven to 375 degrees Fahrenheit. Butter a 3-quart casserole dish.
Bring a large pot of generously salted water to a boil and cook the pasta until it's al dente. Melt the butter in a large saucepan over medium heat. Add the flour and cook, stirring, for 1 minute. Whisk in the warmed milk and bring to a simmer, whisking constantly (the mixture will thicken as the heat increases).
Stir the dry mustard, salt, black pepper, cayenne, nutmeg, hot sauce and Worcestershire sauce into the thickened milk. Stir in 3 cups of the cheddar, and the Pecorino Romano, until the cheeses melt.
Add the cooked pasta to the cheese sauce, and toss to combine. Pour the cheese-apalooza mixture into the prepared casserole dish.
Make the topping: In a medium bowl, combine the potato chips, Pecorino Romano, crumbled bacon, parsley and the remaining cheddar. Sprinkle the crumb mixture on top of the macaroni and cheese, and bake for 35 minutes. For a crunchier topping, finish under the broiler for 3 minutes, until golden brown and crisp. Remove from the oven and cool for 5 minutes before serving.
Recipe from Down Home With The Neelys