Jean Shin, Turning Trash Into Artistic Treasure
Jean Shin, Turning Trash Into Artistic Treasure
Michael Mansfield/Smithsonian American Art Museum
Michael Mansfield/Smithsonian American Art Museum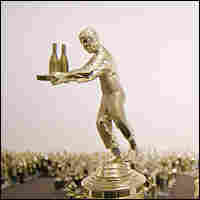 Michael Mansfield/Smithsonian American Art Museum
Michael Mansfield/Smithsonian American Art Museum
Web Resources
A pill bottle, a losing lottery ticket, a broken umbrella, a long-forgotten trophy: Mostly, we consider these items detritus awaiting garbage collection.
Artist Jean Shin collects them and finds artistic meaning and symbolism in these castoffs. Her creations go on display at the Smithsonian American Art Museum in Washington, D.C., on Friday.
Shin, a 38-year-old Korean-American from Bethesda, Md., creates art that encourages people to look more carefully. Her piece Everyday Monuments, for example, appears at first to simply be a mass of sports trophies.
But the little gold bowling figures are handling strollers, not bowling balls; the basketball players are holding hammers; the soccer player holds a typewriter and the cheerleader serves up a dish of food.
The champions, in this case, are those who do ordinary, essential work but "aren't getting trophies today," Shin says.
Shin specializes in transforming everyday objects into something else, though she can't always predict how her art will be interpreted. For her installation Untied, Shin knotted dozens of old neckties along the top of a chain-link fence in a run-down neighborhood in New Haven, Conn.
Shin expected people would add their own neckties to the display — instead, they saw the ties as freebies for the taking. She laughingly tells the story of introducing herself to one nicely dressed man who was headed to work with an armful of ties lifted from the installation.
"He was, of course, embarrassed — mortified," Shin recalls. "He was like, 'Oh! Oh, I'm so sorry, here, I can put it back!'"
Of course, when a tie or a trophy is sitting around in your closet or basement, there's nothing artistic about it.
"In Jean's hands, the process of making these objects new again, of giving them life [and] restored purpose, and making us look at them — or asking us to look at them — in a completely new way is very artful," says Joanna Marsh, who organized the show for the museum.
Shin says her work is informed by conceptualism, by the ideas as well as the visual impact.
"As artists, we're thinking about these ideas that are meaningful to us and [we] hope that other viewers can also translate the viewing experience into a thinking process," Shin says. "For me, my meaning is [not just] looking, but feeling and thinking."
The ideas come first. Shin found herself thinking about what it means to get older — our bodies, our dependencies. She put out a call for empty prescription medicine containers and got dozens of donors.
She stacked the ordinary, amber pillboxes into circular towers and lit the towers from beneath. Some hang from the ceiling like gorgeous chandeliers. Others sit on the floor: cognac-colored footlights. The work is called Chemical Balance.
Used lottery tickets form the basis of another piece, Chance City, where the losing tickets become colorful houses of cards — an imaginary city full of chance and, Shin says, optimism.
"Picking up your life and moving to the city and giving it all you can, your dreams may change — transform," Shin says. "But somehow, I think all of us retain that memory of something that they really wanted to do, and against all odds, are able to succeed."
Shin's show will not travel; it is only at the Smithsonian until July 26.