Flu Forces Mexicans To Stay Home, Shut Businesses
Eitan Abramovich/AFP/Getty Images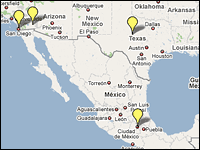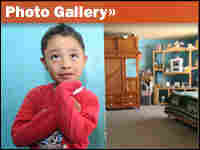 'Flu Shots' Blog
It was supposed to be Dia del Nino in Mexico on Thursday, a children's version of Mother's or Father's Day, when parents buy treats for their kids and schools usually schedule special activities and serve cake.
But there were no classes and nowhere to go to celebrate. All the schools in Mexico — along with much of the country's government and stores — have closed or curtailed operations amid the deadly swine flu outbreak.
In Mexico City, all bars, restaurants, stadiums and any other place where people might gather have been shut down. Tens of thousands of businesses are shuttered. People are out of work. And vendors say sales have plummeted.
Mexico, the country hardest hit by the flu outbreak, was already in a sharp recession due to the global economic downturn. President Felipe Calderon has urged all businesses not crucial to the economy or public safety to close between now and May 6, encompassing a long holiday weekend, in an effort to stem the spread of swine flu.
Business Owners Worried
Some businesses owners say that the situation could break them.
Fernando Perez Gomez, who runs a print shop near the national university in southern Mexico City, says be doesn't know how long he can stay in business if the swine flu crisis goes on.
"Since last Thursday there hasn't been any work," he says. "Today practically zero. There isn't anything. Right now we are just finishing some jobs from last week. But there isn't any economic activity."
Alejandra Arias Victoriano, who works at a mini-carnival in the city, says her family has been affected deeply by the influenza outbreak. Arias lives with her husband and seven children in a small shipping container parked on the street next to the bumper car ride.
The kids aren't studying and they're missing a lot of school. "They want to go to the park and they are all closed. They want to go to Kentucky Fried Chicken, and they are all shut," she says.
One of her daughters came down with a bad cold last week that Arias believes is swine flu although that hasn't been confirmed. The daughter is feeling better but Arias worries about her other kids.
"The fear is that there are seven of them," she says, "and another one of them might catch it."
She wanted to get her children cake for the holiday, but with the rides idle she is not working and she didn't feel she could afford it. Anyway most of the local bakeries are closed.
Essential Services Remain
Minister of Health Jose Angel Cordova, announcing the closings, said essential services won't be affected. The shutdown order does not apply to supermarkets, pharmacies and other basic services, he said.
"We will guarantee the production of food and medicine," he said, "and make sure essential goods and services are available to the public."
Schools Grapple With How To Respond To Swine Flu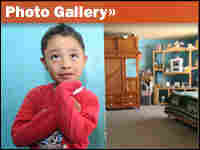 'Flu Shots' Blog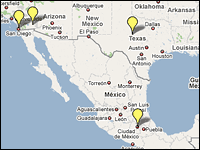 Timothy A. Clary/Getty Images
The number of states with confirmed cases of swine flu expanded Thursday, with 13 states reporting a total of 114 cases. As the virus spreads, so does awareness and the potential for overreaction. School districts and universities in particular are wrestling with this question: to close or not to close?
At the University of Delaware, officials have taken a number of steps that illustrate the dilemma schools are facing.
The university has confirmed that four students have swine flu. It canceled two public events scheduled for Thursday: a talk by journalist Gwen Ifill and a concert by rapper Young Jeezy. The school's public health center opened a call center, and the state health department moved to help the university screen students with flulike symptoms.
Students entering the school's health centers were urged to don surgical masks. Those with symptoms were then sent back home, or to their dorms, and urged to "self-isolate." One student pronounced the measures "stupid" and said they were disrupting student life to the point where officials might as well close the entire school.
Sophomore Hannah Guild showed up for a routine appointment but gave up when she saw the line of students. She said many students probably had spring allergy symptoms and that she found school officials' reaction somewhat extreme.
It's unclear just how effective the University of Delaware measures — and perhaps the school closings — will be in preventing infections. Students are returning to crowded dorms or apartments and to meals in the cafeteria. And while university and state health officials can urge affected students to practice what's known as "social distancing," they have not quarantined anyone at this point.
Earlier this week, health officials had been urging K-12 schools to stay open if possible. But as the week wears on, more public school systems are initiating widespread closures. In Texas, for instance, at least 100,000 students across 13 districts remained at home Thursday as entire suburban districts closed. Some plan to remain closed until May 11.
In Huntsville, Ala., all schools were closed on the advice of the county health department because of two probable cases of swine flu at a local school. The closures affected more than 51,000 students in three different districts.
Parents are being urged to keep their kids at home, a challenging prospect for those who have to work. In this economic recession, parents with young children will face difficult choices as the school closings drag on and as the long summer break approaches. The standard option during ice storms ("go play at your friend's house") isn't available.
Meanwhile, public officials struggled to raise awareness without spreading panic.
Vice President Biden enhanced his reputation for being a little too quick on the draw, saying that he was advising his family to avoid public transportation, including airplanes.
The remark didn't sit well with the airline industry, which is already struggling with a bad business climate. So the vice president's office issued a statement translating Biden-speak into bureaucratese: Biden was merely restating the same advice the Obama administration is giving everyone, to avoid unnecessary travel. The statement also reiterated the now-familiar admonition to cover your face when you cough.
No word on whether that advice will replace the familiar FAA warnings about what to do when those oxygen masks drop down. It's an open question whether anyone would want to put on those masks — who knows who wore them last.