Q&A: Keeping Your Distance Key To Preventing Flu
Tom Pennington/Getty Images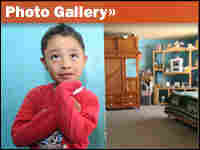 The Latest From The CDC
While world health officials continue to monitor new reports of swine flu around the world and in the U.S., the burden is increasingly falling on local officials to decide what to do with suspected flu cases. Individual schools and even whole school districts are shutting down, and airlines are scrambling to determine the best course of action. Following are questions and answers on which actions actually slow disease and which don't.
Would closing borders slow the spread of swine flu?
No, as President Obama said a couple of nights ago, the horse is out of the barn. The incubation of any flu is between one and seven days, and we are already at least a few weeks into this and the disease is already here. We've seen cases throughout North America, into Europe and suspected cases elsewhere, too. Flu is one of the most contagious diseases we know of, and swine flu is likely to be just like the regular flu in this regard.
Is it safe to fly?
There's always a risk of getting sick on an airplane, but the risk is not as great as you might think. Flu is very contagious, but it doesn't go very far. The safe distance from a person with any type of flu is about three to six feet. On an airplane, with the closed ventilation systems and lack of fresh air exchange, the risk of catching any respiratory disease is probably limited to people sitting a few rows in front or back of an ill person, not the whole plane. And it's not 100 percent certain that you'll get sick if you're within that range.
All kinds of things come into play, such as how strong your immune system is. There are also steps that crews can take to minimize the spread. Crews are trained to identify a sick person and they're instructed to give the ill person a mask, which can reduce the spread of germs. Crews are also told to separate the sick person from others by at least six feet. And remember, everyone can reduce their risk of infection by frequently washing their hands for at least 20 seconds. You can read more about this at the CDC swine influenza Web site.
Should schools close if a student has swine flu?
The criteria for this decision vary from district to district. Whenever someone coughs, the droplets spray out about three to six feet. There is no practical way of keeping children six feet apart in school, so public health officials say it is an effective strategy to close a school if there is a probable case. If the school does close, don't send your kids to the local day care center or the library, as the key is to avoid crowds. This is called social distancing.
What about businesses?
The CDC's "mitigation policies" to reduce contact between people encourage telecommuting strategies and liberal work-leave policies. Each business is different and some critical industries like electricity and communications may take steps to keep people on the job, including recommending the use of medications like Tamiflu and Relenza, which can lessen the symptoms and severity of the flu.
Does wearing a mask help?
A mask may provide some protection, but there is no real proof that a mask can prevent you from getting a disease. The most effective use for masks is for people who are already infected. A sick person can use a mask to prevent the cough droplets from spreading.
How worried should people be?
You should keep informed and plan for things like school closures, days off work and other consequences of social distancing. If you develop flu symptoms, body aches, fever, chills, sore throat, fatigue and sometimes gastrointestinal symptoms, you should get to a doctor right away. The two drugs mentioned earlier, Tamiflu and Relenza, need to be taken within 24 to 48 hours to have any effect. It's also important to remember that the worst known flu pandemic, in 1918, had a death rate of about 2 percent and killed 30 million to 60 million people.
We now have medications like the antivirals to treat the flu and antibiotics to treat pneumonia and of course, all the medical technology that helps lessen disease. But we really don't know how deadly this new virus will be. My biggest concern is for the developing world, where conditions are often as rudimentary, or more so, than in 1918.