Obama Faces Challenges On Budget Vows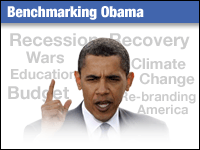 NPR's Obama Tracker charts significant events and developments in the new administration, as well as actions the president takes as he settles into the job.
It's hard to believe that it was just last fall, in the third debate of the presidential campaign, that moderator Bob Schieffer could ask candidate Barack Obama a question including these observations:
"We found out yesterday that this year's deficit will reach an astounding record high $455 billion," the CBS newsman said. "Some experts say it could go to $1 trillion next year."
At this point, $1 trillion sounds like the good old days. The deficit is on track to reach $1.8 trillion in fiscal 2009, according to the nonpartisan Congressional Budget Office.
This week President Obama passed his 100th day in office, a time to look back at the goals and benchmarks he set for himself during the campaign. He promised new spending priorities and lower deficits — a different approach to the budget. It's been quite a challenge.
Here's how then-Sen. Obama answered Schieffer:
"We need to eliminate a whole host of programs that don't work. And I want to go through the federal budget line by line, page by page. Programs that don't work, we should cut. Programs that we need, we should make them work better."
But when he said that, it was already clear that the economy was imploding — fast. Lawmakers and economists were drafting a $787 billion economic stimulus bill that would later blow out the president's budget. So by Inauguration Day, the benchmark on the federal budget had shifted.
Still, just a few weeks into his presidency, Obama was already on the defense on spending. In early February, he spoke at a retreat for congressional Democrats.
"You get the argument, well, this is not a stimulus bill, this is a spending bill. What do you think a stimulus is?" he said to knowing laughter. "That's the whole point. No, seriously! That's the point."
Then came the budget, Obama's first. Congress approved a $3.6 trillion spending blueprint this week, a third of it on the national credit card.
Republican leader Rep. John Boehner said his party is angry.
"What we see before us is nothing short of the most audacious move to a big socialist government in Washington, D.C., than anything I could have ever dreamed about before I ran for Congress, or, for that matter, any time over the last 18 years that I've been here," he said.
Democrats defend the president's budget, arguing that to cut spending now would undermine efforts to heal the economy. House Speaker Nancy Pelosi said the budget would help fix it.
"In the first 100 days it enables us to make the claim that more has been done in this period of time for health care than in decades," she said. "More has been done on education than in generations. And in terms of energy, there's absolutely no contest."
So Obama's goal of redirecting the budget is well on its way. Fixing those deficits? Not so much.
And that has left members of the president's own party feeling queasy. Seventeen House Democrats voted against the budget. And the so-called Blue Dogs, fiscal conservatives, are watching spending carefully.
Still, most Blue Dogs voted yes on the budget. Florida Democrat Allen Boyd found a silver lining.
"The president sent us down an honest budget," Boyd said. "It wasn't pretty. It'd give you sticker shock. But at least it included the things in it that we knew we had to do."
That may be the one thing easing conservatives' stomachs right now. That and Obama's promise to make it a higher priority to keep the budget in line.