'Oh Happy Day': Pop Stars Go Gospel
'Oh Happy Day': Pop Stars Go Gospel
Songs From 'Oh Happy Day'
This CD is being sold exclusively at Wal-Mart. You can purchase an mp3 version of Oh Happy Day at the Amazon mp3 store.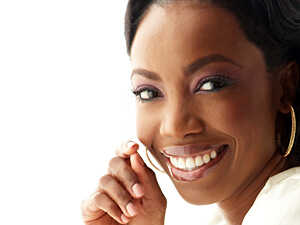 Gospel music has evolved over decades, beginning in tiny, rural churches and growing into its own formidable industry today. But it has always had the power to stir the soul.
Oh Happy Day is a new compilation that strives to capture that power. The collection pairs popular music stars like Jon Bon Jovi, Queen Latifah and Aaron Neville with gospel giants like the Clark Sisters and the Fisk Jubilee Singers.
"Like many projects in Nashville, it started over a lunch meeting — with myself and co-producer Ken Levitan," says co-producer Bill Hearn, CEO of EMI Christian Music Group. "We were just talking about how much we loved gospel music and its impact on American culture through the years. And we thought it'd be a great idea to combine popular singers and artists from different genres of music — rock, pop and urban — with great gospel choirs, singing well-known and traditional gospel songs and inspirational songs."
Hearn says many of the pop artists chosen had some experience singing in church, even if they had never actually made gospel recordings. That was certainly the case for Tony-award winning actress and R&B singer Heather Headley.
"You know, I grew up in church — my father was a pastor. So gospel music — or singing in church, I should say — for me is where I learned to sing," she says. "I remember my first voice lesson — I'm going to get in trouble now — at Northwestern University was my first [formal] voice lesson. And I remember the teacher saying to me — she said, 'Where did you learn to sing? Because, you know, your technique is pretty [good] — who was your teacher?' And I remember laughing at her and saying, 'Jesus. That's the only teacher I've ever had.'"
Headley, Hearn and 3 Doors Down singer Brad Arnold — whose band performs with the Soul Children of Chicago — spoke with guest host Lynn Neary about the compilation.
Click the link at the top of the page to hear the full interview, starting around noon ET on May 3.