CDC Chief Urges Caution Amid 'Encouraging Signs'
Eitan Abramovich/AFP/Getty Images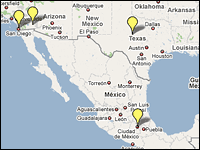 Swine flu continues to spread widely, but there are signs that the severity of the outbreak is starting to level off, the acting chief of the Centers for Disease Control and Prevention said Monday.
"While we're not out of the woods, we are seeing a lot of encouraging signs," Dr. Richard Besser said at a news conference in Washington, D.C. He cautioned, however, that it's still too early to declare the problem under control.
In Mexico, the country's health secretary cited an ebb in the swine flu outbreak in announcing that most businesses will be allowed to reopen nationwide this week.
Health Secretary Jose Cordova said economic activity will resume Wednesday, ending a five-day closure of nonessential businesses to stop the spread of the new virus. In Mexico City, officials said cafes, museums and libraries will reopen this week but that health officials need to finish inspecting schools before students can return to class.
Mexico still called off Cinco de Mayo celebrations Tuesday, including the biggest one of all — a re-enactment of the May 5, 1862, victory over French troops in the central state of Puebla.
More than 1,200 confirmed swine flu cases have been reported worldwide. In the U.S., the number of cases stood at 388.
Besser also said there were more than 700 probable U.S. cases, or patients who exhibit symptoms but have not been through a full battery of tests to confirm the new H1N1 swine virus. "We expect that all states will likely have confirmed cases," he said.
The CDC was still discussing whether or not a vaccine was necessary, Besser said, adding, "We are doing all of the steps that are necessary should we decide to produce a vaccine."
The agency's flu chief, Dr. Nancy Cox, said the new swine flu virus has not shown any signs of becoming more lethal.
"We haven't seen any changes that would cause alarm," she said. "The viruses are remaining very consistent."
Meanwhile, the heads of the United Nations and the World Health Organization said Monday that there are no imminent plans to raise the WHO pandemic alert to its highest level.
U.N. Secretary-General Ban Ki-moon said in New York that WHO "has no plan to raise the alert level to 6 at this moment." And WHO chief Margaret Chan also told the U.N. General Assembly that "we are not there yet." She added there is "no indication" that the situation is similar to the flu outbreak in 1918.
Phase 6 — the highest alert level — would mean that a global outbreak of swine flu is under way. WHO raised the level to 5 last week.
The virus has spread to Colombia in the first confirmed case in South America — where flu season is about to begin — and more cases have been confirmed in Europe and North America. Besser said that what now ensues in the Southern Hemisphere will be "critically important for us to understand as we think about the decisions around vaccination."
In the U.S., Maryland announced its first confirmed cases of swine flu, joining 36 other states that have reported cases.
Many schools across the country have been temporarily closed because of confirmed or possible cases of the new H1N1 virus.
But on Monday, the first U.S. school to close because of swine flu reopened. Students, many carrying bottles of hand sanitizer, returned to St. Francis Preparatory School, where 45 people had contracted the flu.
Although the new flu is transmitted by humans and not by pigs or pork products, the widespread coverage of the outbreak in the media helped drive U.S. hog prices sharply lower Monday at the Chicago Mercantile Exchange. Meat producer Tyson Foods Inc. reported that domestic pork sales had slipped.
"I saw so much price pressure [on pork] throughout the week on product as this hysteria on H1N1 was evolving," Tyson executive Jim Lochner said Monday during an earnings conference call with Wall Street analysts. "We have seen weaker demand domestically as well over this confusion."
NPR staff and wire services contributed to this report.