Schools Close To Stem Swine Flu Spread
More schools closed in the U.S. Monday in an effort to reduce the spread of swine flu. Included are 24 schools in a district west of Detroit where a high school student may be infected with the new H1N1 flu strain. The Centers for Disease Control and Prevention says it is considering making guidelines on school closures more flexible.
ROBERT SIEGEL, host:
From NPR News this is ALL THINGS CONSIDERED. I'm Robert Siegel.
MICHELE NORRIS, host:
And I'm Michele Norris. More schools close today due to swine flu. A total of 533 schools, public and private, have now shut down. The number keeps growing and some schools will barely have time to reopen before the year ends. The Centers for Disease Control said it's thinking about making its guidelines on school closures more flexible, there just not doing it quite yet. NPR's Larry Abramson reports.
LARRY ABRAMSON: Nineteen thousand students in the Plymouth-Canton Community Schools outside Detroit are at home today. That's because one student has a probable case of swine flu. Like other districts Plymouth-Canton officials say they are taking their cue from the State Health Department. James McCurtis, spokesman for the Michigan Department of Community Health, says the rule goes like this…
Mr. JAMES MCCURTIS (Spokesperson, Michigan Department of Community Health): if there's a child who has a probable case the schools or these facilities should close for seven days and if that child has a sibling, then the sibling should stay at home, but that school of the sibling can remain open.
ABRAMSON: McCurtis says he's following guidance from the Centers for Disease Control and Prevention which this weekend extended the closure period to 14 days, up from just seven, but the Plymouth-Canton Schools only plan to stay closed for two days. Local officials get to decide these things. In another example of differing interpretations of the guidelines, in Huntsville, Alabama, last week, three school systems that serve over 50,000 students shut down. Today most of the schools in the three districts around Huntsville are open again.
Mr. DEE FOWLER (Superintendent, Madison City Schools): Our elementary schools are closed. Our secondary schools are open.
ABRAMSON: That's Dee Fowler, Superintendent of the Madison City Schools near Huntsville. He says the Health Department told him that most cases were occurring in younger children. So he got the okay to open his secondary schools, but he says the rules still seem random given the zigzag boundaries between Huntsville's different school districts.
Mr. FOWLER: There are subdivisions where in the street part of the kids go to Madison City Schools and a neighboring county - Limestone County - the kids across the street, go to Limestone County schools.
ABRAMSON: So kids on one side of the street could be stuck at home, the kids on the other side would have school. Epidemiologist Michael Osterholm of the University of Minnesota says the idea of closing schools made sense when experts sat around a table and tried to predict how the disease would spread.
Dr. MICHAEL OSTERHOLM (Epidemiologist, University of Minnesota): The original plans that were laid out to stem a spreading pandemic really did not take into account the severity of the disease. It was basically assumed that it would get here and it would be bad.
ABRAMSON: But Osterholm says now that the flu doesn't appear to be so bad it's time to change the guidelines.
Dr. OSTERHOLM: And I'm going to make a prediction here that by mid to the end of the week, we will not be closing schools in this country. In fact we'll be merely handling it much more like we do seasonal flu.
ABRAMSON: The CDC agreed in principle today. At a news briefing Acting Director Richard Besser said school closings were not proving effective in areas where the disease is already established.
Dr. RICHARD BESSER: With that information, we are looking at our school closure guidance and we're having very active discussions about whether it's time to revise that.
ABRAMSON: Besser said he is not ready to change that guidance just yet but he did point to an alternative - Seattle's approach to the disease. The city closed three schools last week but Director of Public Health David Fleming says closing more schools would not really help.
Dr. DAVID FLEMING (Director of Public Health, Seattle & King County): And so we have moved instead to a policy that puts the frontline of defense on parents screening their children and on schools to keep infected children out of school.
ABRAMSON: Meanwhile, a number of schools once closed because of swine flu have reopened. That includes St. Francis Prep in New York City which had 45 confirmed cases of flu.
Larry Abramson, NPR News, Washington.
NPR transcripts are created on a rush deadline by Verb8tm, Inc., an NPR contractor, and produced using a proprietary transcription process developed with NPR. This text may not be in its final form and may be updated or revised in the future. Accuracy and availability may vary. The authoritative record of NPR's programming is the audio record.
CDC Chief Urges Caution Amid 'Encouraging Signs'
Eitan Abramovich/AFP/Getty Images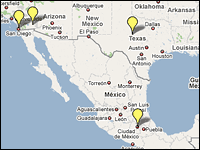 Swine flu continues to spread widely, but there are signs that the severity of the outbreak is starting to level off, the acting chief of the Centers for Disease Control and Prevention said Monday.
"While we're not out of the woods, we are seeing a lot of encouraging signs," Dr. Richard Besser said at a news conference in Washington, D.C. He cautioned, however, that it's still too early to declare the problem under control.
In Mexico, the country's health secretary cited an ebb in the swine flu outbreak in announcing that most businesses will be allowed to reopen nationwide this week.
Health Secretary Jose Cordova said economic activity will resume Wednesday, ending a five-day closure of nonessential businesses to stop the spread of the new virus. In Mexico City, officials said cafes, museums and libraries will reopen this week but that health officials need to finish inspecting schools before students can return to class.
Mexico still called off Cinco de Mayo celebrations Tuesday, including the biggest one of all — a re-enactment of the May 5, 1862, victory over French troops in the central state of Puebla.
More than 1,200 confirmed swine flu cases have been reported worldwide. In the U.S., the number of cases stood at 388.
Besser also said there were more than 700 probable U.S. cases, or patients who exhibit symptoms but have not been through a full battery of tests to confirm the new H1N1 swine virus. "We expect that all states will likely have confirmed cases," he said.
The CDC was still discussing whether or not a vaccine was necessary, Besser said, adding, "We are doing all of the steps that are necessary should we decide to produce a vaccine."
The agency's flu chief, Dr. Nancy Cox, said the new swine flu virus has not shown any signs of becoming more lethal.
"We haven't seen any changes that would cause alarm," she said. "The viruses are remaining very consistent."
Meanwhile, the heads of the United Nations and the World Health Organization said Monday that there are no imminent plans to raise the WHO pandemic alert to its highest level.
U.N. Secretary-General Ban Ki-moon said in New York that WHO "has no plan to raise the alert level to 6 at this moment." And WHO chief Margaret Chan also told the U.N. General Assembly that "we are not there yet." She added there is "no indication" that the situation is similar to the flu outbreak in 1918.
Phase 6 — the highest alert level — would mean that a global outbreak of swine flu is under way. WHO raised the level to 5 last week.
The virus has spread to Colombia in the first confirmed case in South America — where flu season is about to begin — and more cases have been confirmed in Europe and North America. Besser said that what now ensues in the Southern Hemisphere will be "critically important for us to understand as we think about the decisions around vaccination."
In the U.S., Maryland announced its first confirmed cases of swine flu, joining 36 other states that have reported cases.
Many schools across the country have been temporarily closed because of confirmed or possible cases of the new H1N1 virus.
But on Monday, the first U.S. school to close because of swine flu reopened. Students, many carrying bottles of hand sanitizer, returned to St. Francis Preparatory School, where 45 people had contracted the flu.
Although the new flu is transmitted by humans and not by pigs or pork products, the widespread coverage of the outbreak in the media helped drive U.S. hog prices sharply lower Monday at the Chicago Mercantile Exchange. Meat producer Tyson Foods Inc. reported that domestic pork sales had slipped.
"I saw so much price pressure [on pork] throughout the week on product as this hysteria on H1N1 was evolving," Tyson executive Jim Lochner said Monday during an earnings conference call with Wall Street analysts. "We have seen weaker demand domestically as well over this confusion."
NPR staff and wire services contributed to this report.