Not Just A 'Bio-Mom,' But A Mentor
Not Just A 'Bio-Mom,' But A Mentor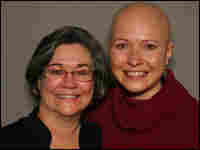 Deborah Dimasi met her biological mother for the first time 12 years ago, almost three decades after being placed for adoption.
Sue Adam, whom Dimasi has nicknamed her "bio-mom," says she was in her last year of school at Beloit College in Wisconsin when she got pregnant.
"It was probably the loneliest time of my entire life," Adam, now 62, tells Dimasi. "When I was in the hospital, I was there for hours by myself. And then they took you away, and they wouldn't allow me to see you. But one of the nurses took pity on me and brought you in to my room in the middle of the night one night so that I could count fingers and toes."
Adam says she had to physically hand her daughter over to a doctor when she left the hospital in Pittsburgh where Dimasi was born.
"That was supposed to be an indication of my willingness to give up the child, and that was hard," she says.
Dimasi, 39, who now works in development for StoryCorps, says she has never resented Adam's decision.
"I never had reason to. I knew that I was adopted, and my parents always made it a positive part of my life — that they picked me, that they really wanted me. And I just remember your being a question mark," she tells Adam.
Dimasi says she got to a point in her 20s when she was just so curious that she asked her parents for any papers from the adoption. "And my father took me upstairs and gave me a pile of papers, and that's when I discovered the hospital bill that had your name on it," Dimasi says. "On all the other papers, your name was blacked out with a Magic Marker. But there was this one for, like, aspirin. It was the most inconsequential bill, but there was your name, and it was the first moment that you as a person were concrete to me, and it knocked me down."
Adam says she listened to Dimasi's first message on her phone over and over again because "it just had never crossed my mind that I would ever hear your voice." In their first phone conversation, they talked for two or three hours.
"It just seemed so easy. We haven't shut up much since," Adam says.
Dimasi says that when she describes their relationship, "I say that you're more like a mentor than a mother. You're a person that I turn to for advice and someone that I enjoy talking to about all the things that I'm passionate about."
Produced for Morning Edition by Nadia Reiman. The senior producer for StoryCorps is Michael Garofalo.