Solved: The Mystery Of The Missing Artist
Solved: The Mystery Of The Missing Artist
Update: Not So Fast!
Oct. 21, 2009: New DNA testing shows that the disappearance of writer, artist and explorer Everett Ruess is still a mystery -- despite findings earlier this year that indicated his remains had been found. Read more about this surprising story:
Dorothea Lange/National Geographic Adventure
David Roberts/National Geographic Adventure
Vaughn Hadenfeldt/National Geographic Adventure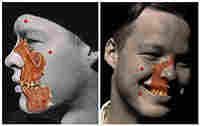 National Geographic Adventure
More From 'National Geographic Adventure'
Seventy-five years ago, a young man named Everett Ruess rode off alone into the Utah wilderness, never to return. The mysterious disappearance of the 20-year-old artist and writer baffled thousands and inspired several books and a film. Now, a team of geneticists and forensic anthropologists has finally put the mystery to rest.
Ruess was raised in Los Angeles and moved to San Francisco during the Depression. He tried to make a living at his art — cutting wood block prints and writing poetry. But even as artists like Ansel Adams and Maynard Dixon reached out to him, Ruess turned his back on city life. He said it drained him and left him uninspired.
At age 16, Ruess took two mules and immersed himself in the beauty of the Southwest. For four years, he wrote, painted and sketched, enchanted by what he saw.
"The beauty of this country is becoming a part of me," one of his letters reads. "I feel more detached from life and somehow gentler. I have good friends here, but no one understands why I am here and what I do. I've gone too far alone."
In November 1934, Ruess stocked up on supplies in the town of Escalante, Utah. He then headed into the empty expanse of Davis Gulch, frequented only by sheepherders, cattle rustlers and outlaws.
Ruess never came out of the desert.
Mystery Turns To Legend
For decades, people captivated by his mysterious disappearance in the Utah wilderness have been consumed by one question: "Did he purposefully leave this world some way — either vanish into the Navajo country or commit suicide?" author W.L. Rusho says.
Rusho, author of Everett Ruess: A Vagabond for Beauty, rummaged through Ruess' papers and letters in his search for answers.
At the time, the clues to Ruess' disappearance were few: a halter from a mule and the word "NEMO" inscribed in a cave, says Diane Orr, maker of the film Lost Forever: Everett Ruess. Nemo was an alias Ruess had adopted. The word is Latin for "nobody," but some wonder if it was a reference to Jules Verne's mysterious outcast Captain Nemo.
Search parties were sent after the young artist. His mules were recovered, but no other traces were found.
Theories on his disappearance flourished, ranging from random violence to noble suicide. "I think we have built a mystique about Everett Ruess," Rusho says. It's the story of a person, disenchanted with the world, who sets off to find his own way — "which is what a lot of young people want to do," Rusho adds.
Reah Jensen once attended a Mormon Church dance with Ruess. "I just don't feel he ever committed suicide," Jensen says. "I think something tragically happened to him."
What Happened To Everett Ruess
Turns out, Jensen was right. Last year, Denny Bellson's sister told him a family secret. Their grandfather said he witnessed three Ute Indians chase and murder a young white man west of Bluff, Utah. There were two mules with the young man. Out of respect, their grandfather said, he buried the young man in a high crevasse. With his sister's directions, Bellson searched the site their grandfather had described. He found a saddle on a ledge — and nearby, a crevasse with human bones in it.
"And I saw the top of the skull there, so I looked at it, and I looked around and I knew that it was him," Bellson says.
Bellson had never heard of Ruess, but David Roberts, a contributing editor with National Geographic Adventure magazine, had. Roberts helped put the pieces together, and the story is laid out in detail in the magazine's current issue.
Reconstructed facial bones perfectly matched photos taken of Ruess. Then, Roberts says, Ruess' nephews and nieces donated saliva samples to compare with the victim's bone DNA.
"That proved absolutely critical in cracking the case," Roberts says. The bones were indeed the remains of Everett Ruess.
For those who have followed the mystery for decades, the news of the find is shocking.
"To me, it's almost like the death of an old friend," says Rusho. "I had the image of Everett Ruess disappearing in the wilderness for so long, that it's hard for me to adjust my thinking to realize that he's been found."
But cracking the case has raised more mysteries. Why was Ruess' body found 90 miles from where he was last seen — and how did he get there? Why was he killed? Was it a simple robbery? Meanwhile, the Ruess family plans to cremate the bones and scatter them over the Pacific Ocean, just as Ruess' parents' ashes were.
Jenny Brundin reports for member station KUER in Salt Lake City, Utah.