Mint To Press Fewer Coins As Economy Slows
Mint To Press Fewer Coins As Economy Slows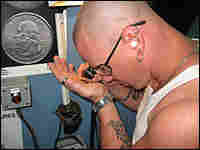 The Federal Reserve was busy last year pumping $700 billion into the U.S. economy — expanding the country's money supply by nearly 10 percent. But that doesn't mean there are a lot more dollar bills circulating. In fact production statistics at the Bureau of Engraving and Printing have remained stable. And coin production has dropped precipitously.
The U.S. Mint will make 3 billion coins in 2009 — a 70 percent decline from the 10 billion produced in 2008. It will be the smallest run in 50 years, and the retail economy is to blame.
"The Mint's mission is primarily to make coins to fulfill the demands of commerce," says Ed Moy, director of the Mint. "The demands of commerce haven't been doing too well the past six months."
Moy says there's something else going on, too — it appears more people are cashing in the coins they've saved at those counting machines near the grocery checkout counter.
"So in addition to low economic activity, there's an increased number of coins coming back into the banking system, which means that the banks need less coins from the Mint," says Moy.
Collectors are excited about the production slowdown, since scarcity boosts a coin's value — a 50-cent roll of Lincoln Bicentennial pennies is selling on eBay for up to $10.
Coin production is just about evenly split between mints in Philadelphia and Denver. Moy says no workers will be laid off. Instead they'll catch up on routine maintenance that has been delayed and undergo extra training. Laying off such specialized workers wouldn't make sense, he says, because they'll be needed again when the economy improves.
That decision won't cost taxpayers a dime, as the U.S. Mint funds its own operations through sales of collectible and bullion coins. Last year it made a $750 million profit for the U.S. Treasury.