A Visit To Guantanamo As It Faces Uncertain Future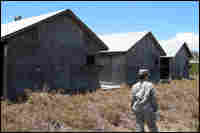 President Obama has been facing growing opposition to his decision to close the military prison camp at Guantanamo Bay by January 2010. Both the House and the Senate voted overwhelmingly not to fund the closure of the controversial camp and to block the transfer of any of the remaining 240 detainees to the United States.
But at Guantanamo Bay itself, there's little indication of the turmoil swirling around Washington. From all outward appearances, there is the same sense of security, the same purpose of mission, that there has always been among the military guards at the prison camp.
That includes at the sprawling Camp Delta, which is the hub of the Guantanamo prison facility. A steady flow of soldiers and contractors pass through the camp's high gates, which are topped with razor wire.
At one time, there were four different detention facilities, holding nearly 800 prisoners, within the walls of Camp Delta. Nowadays, only a fraction of that number remains. They're held in a medium-security facility known as Camp 4. These detainees are allowed to stay outside their cells for as many as 20 hours a day, and they can eat and pray with the other prisoners in the camp.
Inside Camp 4
Most of the men in Camp 4 have long beards and wear white jumpsuits, or tan ones if they're playing sports. A senior guard who, like all the other guards here, asked not to be identified for security reasons, says these detainees have the use of basketball and volleyball courts, and a soccer field. They have planters to grow vegetables, and "they just harvested a lot of tomatoes recently," he says.
There are also art classes, English lessons and phone calls home for the detainees in Camp 4. Four satellite television stations are available to them, including Al-Jazeera. The guards say most detainees prefer to watch soccer.
All of this is part of a good-news story that the Pentagon still likes to project to visitors. But what visiting journalists really want to know is what's going to happen after the Guantanamo prison camp closes.
The guard says detainees keep asking the same question.
"They ask daily whether or not it's going to be closed, where they're going. ... You know, a lot of them have been here for seven or eight years, so I think they kind of see the light at the end of the tunnel, and they're thinking, 'Man, I want to get out of here,' " says the senior guard.
Where Will They Go?
The Obama administration has been trying to determine what to do with the detainees once Guantanamo closes. There's been an increased push to get other nations to take some of the prisoners, and some European nations have indicated they are willing to do that. But negotiators say the Europeans always want to know why they should take the Guantanamo detainees if the United States isn't willing to.
Last month, Defense Secretary Robert Gates indicated the U.S. may bring a group of prisoners onto the mainland. They are Uighurs, Turkic Muslims primarily from western China, who have long been cleared by the Pentagon of being a threat to the U.S. or its allies. At the moment, 17 Uighurs are being held in a minimum-security prison at Guantanamo, called Camp Iguana. This camp originally held about a dozen child detainees who were picked up in places such as Afghanistan and Pakistan.
Camp X-Ray
In all, there are seven different detention camps scattered over Guantanamo's 45 square miles. The first that went up was Camp X-Ray. The cells were made of chain-link fencing; the floors were concrete. About 300 detainees remained here for four months while the other camps were being built.
Camp X-Ray closed when larger facilities were constructed at Guantanamo. Now, the empty cells and buildings are overrun with high weeds. The only inhabitants are snakes, owls and large rodents known as banana rats.
Although Camp X-Ray has not been used in years, it will not be torn down because it could be used as evidence in any future legal case. Of particular interest could be the wooden huts, containing small tables and benches that were used for interrogations.
There have long been accusations that Guantanamo prisoners were subject to harsh interrogation tactics in the past. But it appears now that the whole concept of interrogations has shifted dramatically. For instance, officials here prefer not to call them "interrogations" at all. One guard said, "We don't do interrogations. ... They're interviews."
Voluntary Interrogation
Whatever they call them — interrogations, interviews, even intelligence-gathering opportunities — they are now voluntary.
Intelligence officials at Guantanamo say they will not physically compel a prisoner to attend an interrogation session to avoid unnecessary risk of injury to the guards, detainees or others. As one intelligence officer put it: What's the use of hauling a prisoner into an interrogation, if he's just going to sit and stare at the floor?
If a detainee does feel like talking, he can put in a request. Otherwise, there's an opportunity every week for detainees to talk, says the detention camp commander, Rear Adm. David Thomas.
"They're scheduled events," Thomas says. "The detainees can choose to come or not come." Thomas says he would characterize the sessions "more as a strategic debrief or a conversation, information-sharing."
Thomas says that as many as 90 prisoners have volunteered for an interrogation. Any detainee who has been charged — there are just under 20 who fall into that category — are no longer interrogated. That includes people such as Khalid Sheikh Mohammed, who is accused of helping to plot the Sept. 11 terrorist attacks.
Mohammed is among a group of 14 men who are considered "high-value" detainees and are held in a separate prison facility. Its exact location at Guantanamo is kept secret.
But if all goes according to the president's plan, that facility, and all the others at Guantanamo, will be closed within eight months.