For Summer Sleuths: Best Mystery, Crime Novels
Starting when I was a kid of about 8 or 9, the greatest summer pleasure I could imagine was sitting in the afternoon shade on the stoop of my Queens, N.Y., apartment building, a Tupperware pitcher of Tang (the drink of astronauts!) by my side and a mystery novel in my hand.
Other kids were getting sweaty playing slap ball or tag in the alleyways between the apartment houses; I, meanwhile, was transported far away from the noise and grime of the city to an eternally leafy suburb known as River Heights. That's because, of course, the mystery novels I was reading back then were all Nancy Drews.
The years have gone by and summer is now as hectic as the rest of the year, but whenever I think back to the drowsy delights of summer vacations, a blue roadster and a certain titian-haired sleuth pop into my head. Maybe that's why I was so thrilled to discover, in advance of this summer reading season, five new books for grown-up mystery lovers.
'The Shanghai Moon'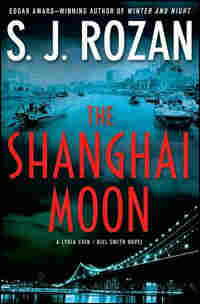 The Shanghai Moon, by S.J. Rozan, St. Martin's Minotaur, Hardcover, 384 pages, List Price: $24.95
Ethnicity aside, Lydia Chin, the protagonist in S.J. Rozan's The Shanghai Moon, is a private investigator very much in the brisk Nancy mold (that is, if Nancy were grown up and Chinese-American). In her ninth novel in the terrific Edgar Award-winning series, Rozan elegantly riffs on the stolen jewels plot that constitutes about 99 percent of the classic Nancy Drew mysteries.

Lydia is hired to trace a cache of jewels that's recently been unearthed in a garden in Shanghai and swiped by a corrupt Chinese official who's now believed to be hiding in New York's Chinatown. The box containing the jewelry had been buried since World War II and may contain a brooch called the Shanghai Moon, which, in the intervening decades, has become the stuff that dreams are made of.

Lydia's race to find the stolen gems before various plug uglies can lay their paws on them constitutes one plotline; another takes readers back to wartime Shanghai. As The Shanghai Moon demonstrates, there's plenty of possibility lurking in the old missing-jewels plot. It just takes a master like S.J. Rozan to restore the luster of a classic.
'The Way Home'
The Way Home, by George Pelecanos, Little, Brown, Hardcover, 336 pages, List Price: $24.99
In The Way Home, hard-boiled writer George Pelecanos has also taken an uncharacteristic detour into classic Nancy Drew territory: While ripping up old carpet in a Washington, D.C., rowhouse that's being remodeled and "flipped" by a real estate agent, two workmen discover an Adidas bag stuffed with thousands of dollars' worth of cash. One of the men, a reformed juvenile offender named Christopher Flynn, senses that the mysterious money could only bring trouble and persuades his partner to leave the loot in its hole under some loose floorboards. But it's a maxim of mystery fiction that buried treasure never stays put once it's been unearthed.

Pelecanos was nominated for an Emmy for his writing on the HBO series The Wire, and all the narrative elements that make his crime writing just so plain alive are present in this latest novel. And — Father's Day present alert! — it's not just money that's disinterred in this novel: Pelecanos also digs deep into the tortured relationship between Flynn and his disappointed dad.
'The Scarecrow'
The Scarecrow, by Michael Connelly, Little, Brown, Hardcover, 448 pages, List Price: $27.99
Stop the presses! A serial killer is on the loose in Michael Connelly's new novel, The Scarecrow. Hold on! There are practically no presses left to stop. That's because another kind of serial killer — call it The Corporate Bottom Line or The Internet — has just about eviscerated our major American dailies.

The Scarecrow is the every-bit-as-suspenseful sequel to Connelly's superb 1997 novel, The Poet: Both novels star crime reporter Jack McEvoy. But what a difference 12 years make. Back when Jack made his debut, he was hustling to beat out the competition. Now, not only has the competition been flattened, but so has Jack. When The Scarecrow opens, Jack has just gotten his pink slip from The Los Angeles Times.

Jack is a pro, however, and while training his replacement (!), he susses out the existence of a serial killer who wraps his female victims in plastic and implicates other men as the murderer. One of the most genuinely breathless scenes in The Scarecrow occurs when Jack, driving alone in the Nevada desert, is electronically "stalked" by this fiend and stripped of access to his cell phone, credit and ATM cards. By novel's end, computers have served as both an agent of evil and redemption — even for Jack, who moves on to a Web-based journalism gig.
'Awakening'
Awakening, by S.J. Bolton, Minotaur, Hardcover, 352 pages, List Price: $25.95
Even though Nancy Drew was always poking around in dilapidated mansions and stumbling into hidden staircases and tunnels, I'm pretty sure she never faced down an angry snake. (Too phallic a foe for the demure detective?) In S.J. Bolton's Awakening, however, a quaint English village is overrun with a veritable swarm of serpents — grass snakes, adders and even the hyper-poisonous taipan, also known as "The Devil from Down Under."

Someone is stashing these slithering intruders in closets, beds and even a baby's crib all over the parish. Against her will, veterinarian Clara Benning gets drawn into the mystery. Severely disfigured in a childhood accident (we don't learn until novel's end how), Clara usually prefers the company of animals to humans. A giant taipan who invades her personal space, however, changes Clara's mind.

Awakening is a delicious Gothic thriller — the kind of story where, I kid you not, the village actually loses electricity in the final scene. Most readers will be so caught up in the crashing thunder-and-lightning climax, even that hoariest of spooky mystery cliches will be forgiven.
'Black Noir'
Black Noir: Mystery, Crime and Suspense Fiction by African-American Writers, edited by Otto Penzler, Pegasus, Paperback, 336 pages, List Price: $14.95
Some treasures, like Edgar Allan Poe's famous "purloined letter," are buried in plain sight. So it was with many of the absorbing tales by African-American writers collected in Black Noir, edited by Otto Penzler.

The anthology gathers mystery and crime stories by early and mid-20th century writers like Rudolph Fisher, Ann Petry and Pauline E. Hopkins — stories that had been published in glossy magazines of the day and then forgotten. Of particular interest among this older batch of mystery stories is Hopkins' "Talma Gordon," which was published in 1900 and squarely confronts the mystery of American race-consciousness. Black Noir also celebrates the work of contemporary African-American thriller writers like Walter Mosley, Paula L. Woods and Gary Phillips (who deserves to be better known than he is.) Phillips' tough-guy tale "House of Tears" turns on the discovery of a hidden safe; but Phillips' characters use language that would make Nancy Drew faint facedown into her cucumber tea sandwiches.
More Recommendations
Books Featured In This Story
Black Noir
Mystery, Crime, and Suspense Stories by African-American Writers
Paperback, 349 pages |
purchase
Buy Featured Book
Title

Black Noir

Subtitle

Mystery, Crime, and Suspense Stories by African-American Writers

Author

Otto Penzler
Your purchase helps support NPR programming. How?
Awakening
Hardcover, 393 pages |
purchase
Buy Featured Book
Title

Awakening

Author

S. J. Bolton
Your purchase helps support NPR programming. How?
Purchase Featured Books
Buy Featured Book
Title

The Shanghai Moon

Author

S. J. Rozan
Your purchase helps support NPR programming. How?
Buy Featured Book
Title

The Way Home

Author

George Pelecanos
Your purchase helps support NPR programming. How?
Buy Featured Book
Title

The Scarecrow

Author

Michael Connelly
Your purchase helps support NPR programming. How?