Robyn Hitchcock: Honesty And Hesitation
Tuesday's Pick
Song: "I'm Falling"
Artist: Robyn Hitchcock
CD: Goodnight Oslo
Genre: Pop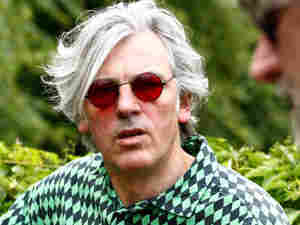 In "I'm Falling," venerable British songwriter Robyn Hitchcock sings a remarkably tender and characteristically un-straightforward love song. Ostensibly written about Beatles manager Brian Epstein's feelings for John Lennon, the song captures the dizziness and confusion of all great romances.
In the song's verses, Hitchcock explores thin lines — between being well and being ill, between what you are and what you aren't, between what you do and what you should do, between what is not and what is. A sweet sort of trepidation infuses his words with a blushing mixture of honesty and hesitation. In the choruses, that gives way to a kind of conflicted surrender as "I'm falling now / You're calling now" gives way to a soaring plea to "take it away."
Whether Hitchcock is asking for those feelings to be gone or for the protagonist's lover to take control is never obvious. But, in light of the quiet explosion of heavenly harmonies that closes out the track, it sounds like someone heard the prayer.
Listen to yesterday's Song of the Day, and subscribe to the Song of the Day newsletter.
Related NPR Stories
Web Resources