Hill Leaders, Lobby Groups React To Sotomayor
Brendan Smialowski/Getty Images
Brendan Smialowski/Getty Images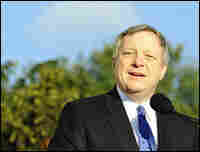 Karen Bleier/AFP/Getty Images
Republicans on Capitol Hill Tuesday promised a fair examination of Judge Sonia Sotomayor, President Obama's pick to replace Justice David Souter on the Supreme Court.
However, as part of the Senate confirmation process, GOP leaders said they will try to determine whether Sotomayor would be able to decide cases based on the law, not on her personal feelings or political views. Conservative criticism has focused on whether Sotomayor would let activist tendencies guide her decisions.
Democrats, meanwhile, were quick to praise the diversity that Sotomayor, a Latina, would bring to the court.
Here, a sampling of reaction to Sotomayor's nomination:
From the Senate Judiciary Committee
Sen. Patrick Leahy (D-VT), chairman of the Senate Judiciary Committee: "Her record is exemplary. Judge Sotomayor's nomination is an historic one, and when confirmed she will become the first Hispanic justice and just the third woman to sit on the nation's highest court. Having a Supreme Court that better reflects the diversity of America helps ensure that we keep faith with the words engraved in Vermont marble over the entrance of the Supreme Court: 'Equal justice under law.' "
Sen. Jeff Sessions (R-AL), ranking Republican on the Senate Judiciary Committee: The Senate Judiciary Committee "will engage in a fair and thorough examination of Ms. Sotomayor's previous judicial opinions, speeches and academic writings to determine if she has demonstrated the characteristics that great judges share: integrity, impartiality, legal expertise, and a deep and unwavering respect for the rule of law. Of primary importance, we must determine if Ms. Sotomayor understands that the proper role of a judge is to act as a neutral umpire of the law, calling balls and strikes fairly without regard to one's own personal preferences or political views."
Sen. Arlen Specter (D-PA): "Her confirmation would add needed diversity in two ways: the first Hispanic and the third woman to serve on the high court. While her record suggests excellent educational and professional qualifications, now it is up to the Senate to discharge its constitutional duty for a full and fair confirmation process."
Sen. Benjamin L. Cardin (D-MD): "Judge Sotomayor brings to the Supreme Court a lengthy judicial record that encompasses nearly every level of the judicial process, including prosecutor, corporate litigator, trial judge, and currently an appellate judge."
Sen. Charles E. Grassley (R-IA): "The Judiciary Committee should take time to ensure that the nominee will be true to the Constitution and apply the law, not personal politics, feelings or preferences. We need to ask tough questions to learn how this individual views the role of a Supreme Court justice. The last 25 years of Senate review of nominees has been entirely different than the first 200 years, and today the Senate can't just be a rubber stamp for President Obama's nominees."
Sen. Orrin G. Hatch (R-UT): "The confirmation process must focus on determining whether Judge Sotomayor is qualified to serve on the Supreme Court. Qualifications for judicial service include not only experience and character but, most importantly, a proper understanding of the power and role of judges in our system of government. Judges must decide cases based on the law, not on their personal views or opinions. Judges swear an oath to decide cases impartially, without regard to the identity of the parties before them. I will focus on determining whether Judge Sotomayor is committed to deciding cases based only on the law as made by the people and their elected representatives, not on personal feelings or politics."
Sen. Dick Durbin (R-IL): "Her compelling life story and three-decade career in nearly every aspect of the law provide Judge Sotomayor with unique qualifications to be the next Supreme Court justice. She has been called 'one of the ablest federal judges currently sitting' and would bring more federal judicial experience to the Supreme Court than any jurist in 100 years. Barack Obama knows better than most: When you are the first, you have to be the best. And Judge Sotomayor's life — from public housing in the Bronx to the highest courts in our land — is a story of excellence."
From Hill Leaders
Sen. Mitch McConnell (R-KY), Senate minority leader: "Senate Republicans will treat Judge Sotomayor fairly. But we will thoroughly examine her record to ensure she understands that the role of a jurist in our democracy is to apply the law evenhandedly, despite their own feelings or personal or political preferences."
Sen. John Thune (R-SD), vice chairman of the Senate Republican Conference: "Now that President Obama has announced Sonia Sotomayor as his nominee for a lifetime appointment to the Supreme Court, I expect a thorough and fair examination of her background, judicial record, and adherence to the Constitution. It will be important to determine if Judge Sotomayor will decide cases based on her own personal feelings and political views, or the bedrock rule of law. I look forward to taking the necessary time to review her qualifications and record as a federal judge to ensure she possesses unimpeachable integrity, high intellect, and a commitment to applying the law as it is written, rather than legislating from the bench."
Sen. Harry Reid (D-NV), Senate majority leader: "Both Democratic and Republican presidents have nominated Judge Sotomayor to the federal bench, and the Senate has confirmed her with strong bipartisan support in the past. I look forward to working with both Democrats and Republicans on the Judiciary Committee to confirm Judge Sotomayor as the first Hispanic and the third woman to sit on the court."
Sen. Olympia Snowe (R-ME): "As the process moves forward, I will apply the same standards of review that I have in the past — that any Supreme Court nominee should bring a balanced approach to cases, possess a strong intellect and suitable judicial temperament, and follow a disciplined judicial methodology in reaching decisions. Justices on the high court sit for life, so the Senate must exercise this constitutional duty thoughtfully, and give careful and thorough consideration to Judge Sotomayor, as it should to every nominee. I share the view that the proper role of the judiciary is one of interpreting the Constitution and acts of Congress, not legislating from the bench. As such, I will carefully evaluate Sonia Sotomayor's record and temperament in making my determination."
Rep. Nancy Pelosi (D-CA), House majority leader: "Judge Sotomayor's experiences and understanding of the law will assure a strong voice for fairness on the Supreme Court. Judge Sotomayor will preserve our civil liberties, maintain the independence of the judiciary, and protect and defend the Constitution of the United States."
Interest Groups Weigh In
Dr. Charmaine Yoest, head of Americans United for Life, an anti-abortion legal and public policy organization: "She is a radical pick that divides America. She believes the role of the court is to set policy which is exactly the philosophy that led to the Supreme Court turning into the National Abortion Control Board denying the American people the right to be heard on this critical issue. This appointment would provide a pedestal for an avowed judicial activist to impose her personal policy and beliefs onto others from the bench at a time when the courts are at a crossroad and critical abortion regulations — supported by the vast majority of Americans — like partial-birth abortion and informed consent laws lie in the balance."
Robert Alt of the Heritage Foundation: "Judge Sotomayor's statements about judges as policymakers, her questioning of whether judges can be objective in most cases, and her insensitive statement that the ethnicity of some judges somehow makes them better at doing their job than judges of different ethnicity — raise serious questions about her view of judging which must be carefully and fully explored by the Senate."
Wendy Long, Judicial Confirmation Network: "Judge Sotomayor will allow her feelings and personal politics to stand in the way of basic fairness. In a recent case, Ricci v. DeStefano, Sotomayor sided with a city that used racially discriminatory practices to deny promotions to firefighters. The per curiam opinion Sotomayor joined went so far out of its way to bury the firefighters' important claims of unfair treatment that her colleague, Judge Jose Cabranes, a Clinton appointee, chastised her."
Nancy Keenan of NARAL: "President Obama has selected a nominee with a distinguished record of professional accomplishments as a judge, prosecutor, and community leader. This impressive personal biography signals that she possesses an understanding of how the law affects everyday people's lives."
Janet Murguia of the National Council of La Raza: "Today is a monumental day for Latinos. Finally, we see ourselves represented on the highest court in the land. By nominating someone with the experience, background, and superb legal credentials of Sonia Sotomayor, President Obama has made an excellent choice for the entire country."
Gary Bauer of American Values: "Sotomayor's appointment proves what we already knew — that President Obama is committed to packing our federal courts with activist judges who will make policy according to their 'feelings' rather than the requirements of the Constitution. Judge Sotomayor admitted in a panel discussion at Duke University Law School in 2005 that she believes the courts are 'where policy is made.' In a 2002 speech at Berkeley, she suggested justice might be better determined by some races than others, saying, 'I would hope that a wise Latino women with the richness of her experience would more often than not reach a better conclusion than a white male who hasn't lived that life.' In view of these quotes, I urge senators to fully examine Judge Sotomayor's judicial philosophy. The American people deserve to know whether once again we are putting someone on our highest court who thinks her job is to remake America to reflect her left-wing prejudices."
Marjorie Cohn of the National Lawyers Guild: "She will be a solid liberal but will not change the political balance of the court since she will replace Justice David Souter. Although she will likely be called upon to review Obama's decisions on interrogation policies, preventive detention and the state secrets privilege, Sotomayor's views on executive power are largely unknown. But with this pick, Obama has missed an opportunity to tap a liberal intellectual giant like William Brennan who will have a major impact on the court for years to come. George W. Bush didn't hesitate to choose two unabashedly right-wing justices. Obama could have chosen Pamela Karlan, Harold Koh or Erwin Chemerinsky, who would have provided a true progressive counterweight to Justices Scalia, Roberts, Alito and Thomas."