Youth Killings Reach Crisis Level In Chicago
Youth Killings Reach Crisis Level In Chicago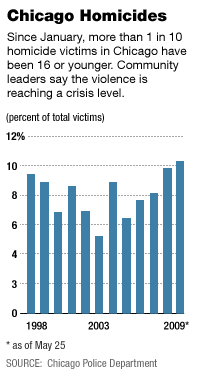 Young people in Chicago are dying violent deaths at an alarming rate.
So far this school year, at least 36 Chicago Public School students have been killed, most of them victims of gunshots. Scores of other Chicago children and teenagers have been wounded in shootings, and there are concerns that the gun violence could escalate when school is out for the summer in a few weeks.
While urban gun violence in Chicago and other cities is nothing new, there is a growing sense among community leaders that it's now at a crisis level.
"Honestly, I'll admit it, I'm afraid to come to school sometimes," says Clinet Jordan, 18, a senior at Chicago's Simeon Career Academy high school, on the city's South Side.
"Usually [gang members] don't try to pull that stuff until after school, but now they're trying to get kids coming to school in the morning. That's ridiculous. We shouldn't be scared to come somewhere — we should feel safe and have a safe learning environment. It don't play right; it's not right."
Heavy Toll
Jordan and his classmates at Simeon know the toll of gang-related gun violence all too well.
Greg Robinson, a shy, quiet freshman basketball player, was in the back seat of a car while returning home from a game when someone started shooting. He died trying to shield his young cousins from gunfire.
Simeon has lost several other students to gun violence over the years, and it's far from the only Chicago high school affected.
Gangs are prevalent throughout the city, and teenagers often have to cross dangerous turf to get to and from school. Some of the victims have been in gangs, but many have not. Some are targeted because they won't join a gang; others are mistaken for gang members or simply caught in the crossfire.
"How could you even say, like, wrong place and wrong time?" says Ronnie Mosley, Simeon's senior class president.
While rattling off the names of other area students killed in recent years, Mosley says these weren't kids who were in gangs or in trouble, or even doing things they shouldn't have been doing.
"Greg was at home. Chavez [Clarke] was here at Simeon on a Saturday getting credits to graduate. Blair [Holt] was on a bus on his way home," Mosley says. "No place is safe but possibly schools."
"Your mind is immune to the violence," says Simeon senior Diedra Barnes. "You sad, but at the same time it feels like there's nothing you can do, because every time you turn on the TV, it's like, 'Oh, another CPS student is shot, or this kid is shot.' "
Jordan says having his high school years marred by the constant danger of gun violence is leading him to attend college as far "away from the city as possible; that's why I'm going to [go] all the way to the East Coast. I refuse to live my life in fear."
Jordan plans to attend the Citadel in South Carolina next fall.
"My family is telling me, when I leave, don't come back," he says.
A Neighborhood In Distress
Michael Pfleger, pastor of St. Sabina Catholic Church in the same neighborhood as Simeon, is outraged at the violence.
"What kind of crazy day do we live in, where our children are afraid to come home and go to school?" Pfleger says.
Outside of his church, Pfleger flies the American flag upside down — something the U.S. Flag Code states should only be done as a signal of distress and a dire need for help.
"Well, this is a dire need," Pfleger says. "This is a distress signal we're putting up saying we need help. We want to sound the alarm; we want a call for helping us deal with children being shot down in our city streets."
Some veterans' groups accuse the priest of desecrating the flag in a publicity stunt, but others, including a group called Veterans Against Violence, have joined Pfleger and his cause.
Pfleger wants the country to respond to the problem of urban violence in the same way it responds to what he says are much lesser threats, like the swine flu.
"We effectively called a consciousness of a nation in 48 hours on H1N1. A billion dollars was released from the administration to deal with it," Pfleger says. "Well, how come we can't be as comprehensive and as aggressive with blood on our streets of our children?"
An Enormous Gang Population
Gun violence is so pervasive in Chicago because of the sheer number of gang members, according to Chicago Police Superintendent Jody Weis.
"We have the largest gang population of any city in the United States," Weis says. "The only city that rivals us is Los Angeles."
Weis says that while L.A.'s gang population is estimated to be somewhere between 55,000 and 70,000, he estimates there are at least 100,000 gang members in Chicago.
The Chicago Police Department is targeting those entrenched gangs throughout the city in several ways. One is by what he calls "hardening the terrain," or having officers saturate certain areas such as parks, street corners and alleys that are known for gang activity.
In addition, Weis says the Police Department has a specialized gang unit.
"They focus on the actual worst of the worst gang members: the people who are making the decisions, who should be shot, the people who are actually pulling the triggers," Weis says. "And they go out every day with a list of targets, trying to find these people, these persons of interest, and locate them and try to catch them."
Weis adds that the Chicago Police Department is working to improve community relations. Distrust of the police has long been a problem in Chicago. And the city is cracking down on curfew violations, to get kids off the street when they're most at risk.
'We Have To Kind Of Be Radical'
The Chicago schools are teaching conflict resolution skills to students, and they are trying to defuse disputes between gangs and cliques so they don't escalate later when students are out of school.
Weis says the strategies appear to be working.
"We're down about 15 percent in homicides," he says, compared to the first few months of last year. And the number of school-age victims is down, too, according to Weis.
But 2008's juvenile homicide total in Chicago, 50, was the highest in seven years, and there are worries that as the weather heats up, so, too, will the violence, as it has in past years.
Weis says he will soon announce additional summertime tactics aimed at reducing gun and gang violence in Chicago. But the superintendent and others say policing alone is not enough to solve the complex problems that are costing too many young people their lives.
"Complex problems require complex solutions," says Simeon senior Ronnie Mosley. "I think, you know, we have to kind of be radical in our approaches."
Mosley, who will attend Morehouse College in Atlanta in the fall, has led rallies and marches against gun violence with his classmates. He and other students have traveled to the Illinois State Capitol to push for an assault weapons ban, a state limit of one handgun purchase a month, and other "common-sense gun laws" — none of which has passed.
One such bill, which had the support of Chicago students who had lost too many classmates to gunshots, failed by just five votes. "We were devastated," Mosley says.
"It's kind of like a slap in the face," adds Diedra Barnes. "It makes you feel like nothing is being done and nothing is happening. We march and we try to protest and, it's like, for two weeks [the shootings] ceased and then out of nowhere, bam, somebody else died."
But Barnes, Mosley and other students say they'll continue their battle against gangs and gun violence in Chicago. They say preventing youth violence starts with them — in their homes, neighborhoods and schools.