How Benny Goodman Won Over America
How Benny Goodman Won Over America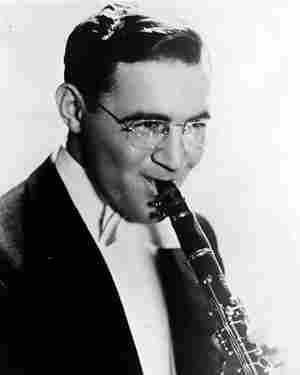 Great performers occasionally become great stars because they actually are great. But stardom often reflects many simmering impulses awaiting a rallying point. When they converge, each amplifies the other, sparking a kind of critical mass.
At age 16 — the year was 1926 — Benny Goodman was already a virtuoso of that new style called jazz. But jazz would go deep underground in the early '30s. For most of that time, Goodman would build a career playing well below his capacities for a succession of commercial bosses whose principal instrument was a baton.
It seemed unfair that the least accomplished musicians should be telling the most accomplished ones what to do. It made Goodman a frustrated, restless and often prickly employee. If any of this was to change, someone would have to break the model of those dreadful "sweet" dance bands.
By 1934, Goodman decided that maybe it could be him. That summer, he put together his first big band, and by December, it had become one of three selected by NBC to play on its new weekly Let's Dance program. In this three-hour, Saturday-night bash, Goodman's swing music rotated with the waltzes of Kel Murray and the rumbas of Xavier Cugat. But Let's Dance would be Goodman's first national exposure, and he came at America like a missile.
The Goodman Centennial
In a series of three concerts beginning Thursday in New York, the Jazz at Lincoln Center Orchestra will mark the 100th birthday of bandleader and clarinetist Benny Goodman. Goodman was a unique breed of American idol — one of a tiny handful whose sudden fame became a permanent marker in American popular music. But the swing era, which he triggered more than 75 years ago, was about more than just Goodman.
Every age has its unique cultural spirit. In ways that are unknowable at the time, its invisible hand is at work. Goodman's moment came in an uncanny convergence with a sudden burst of modernity that seemed to find expression in the sleek perfection of his clarinet.
Just as Goodman made swing a national sensation, the Chrysler Airflow brought streamlining to the American automobile. The first Zephyrs took to rails. The integrated curves of the Douglas DC-3 replaced the boxy Ford Trimotor in the air. Even common household appliances began turning into teardrop-shaped projectiles.
Each mirrored a new aerodynamic physics that promised a future of speed, efficiency and beauty. What the machine had wrought, artists and designers were now shaping into metaphors for flight — some decorative, some functional, all implying movement, even when standing still. It was streamlining.
On The Road
And Benny Goodman, though no student of design, was a direct extension of that sensibility into music. When Let's Dance ended in May 1935, Goodman went on the road to find his audience. In one of the more storied legends of jazz, he found it at the Palomar Ballroom in Los Angeles and sealed his fame at the Congress Hotel in Chicago. He came to the Congress in November still a work in progress. Six months later, he was world famous as the "King of Swing," and the whole country was talking about his music.
Goodman's breakthrough became a kind of Magna Carta for a generation of young virtuosos. Swing meant that the best musicians not only could be leaders, but should be. Soon, Artie Shaw, Count Basie and others would join Goodman at the top. As for Goodman, he came to know the primal power his clarinet could have over a crowd. Down Beat called it "frightening."
In taking jazz from the underground to the hit parade, Goodman not only brought its true creators to wide attention. He also gave young musicians popular license to play a song, take it apart, transform it, improvise on it, make it their own and, if they liked, write their own.
Before Goodman, working musicians were essentially agents for other people's music. Jazz made them an active creative force. It's a license the rock generation renews regularly today.