NBC's Not-So-New 'Do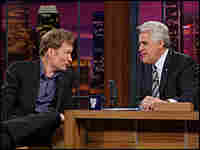 Margaret Norton/NBCU Photobank/AP
Courtesy of Andrew Wallenstein
There are tectonic shifts shaking up the TV schedule over at NBC. Jay Leno's last Tonight Show is Friday, and Conan O'Brien is taking over. In the fall, Leno's new show will be on at 10 p.m. five nights a week. It's the first time a network will devote that much prime time to a talk show. It's unprecedented, but not actually surprising for NBC.
To understand what NBC is up to in late night, consider the comb-over. Some men paste the remaining hair on their heads over their bald spots. And NBC takes the few big hits it has and just stretches it over fallow sections of its schedule. Hey, it's easier than what most networks do, which is try to launch brand new hit shows.
NBC tried the comb-over in 2004 with its "Must See TV" lineup on Thursdays. The network resorted to what it called "supersizing" — expanding some comedies from 30 minutes to 45. The logic was, why try something new and fail when you could spread out what already worked? And it did, and continues to do so today. Episodes of The Office sometimes run a full hour, but the show's middling ratings don't deliver the way Friends once did.
NBC applied the same formula to its morning lineup. It expanded the Today show to three hours in 2000, and then to four in 2007. NBC remains strong in the morning, but that fourth hour has become something of a punching bag for comics. NBC's own Saturday Night Live has mercilessly mocked co-host Kathie Lee Gifford for being just a little bit loopy.
As if Saturday Night Live is one to talk. The network introduced prime-time versions of SNL last year, and more are in the works. That's NBC for you: squeezing golden eggs out of its prize geese.
But there's a risk in doing that: burnout. NBC's tireless franchise aw & Order attempted to spawn a fourth edition called Trial by Jury in 2005. But this comb-over didn't stretch quite far enough; the show failed.
Now, NBC is going Rapunzel on Leno. When you include Jimmy Fallon and Carson Daly, the network has four funny white men with talk shows every weeknight. NBC's reliance on elasticity may be getting its toughest test yet. Maybe we shouldn't expect any less from a network nicknamed "the Peacock," a bird that loves nothing more than fanning out its feathers.