Confessions Of A Drug Smuggler: 'High'
Brian O'Dea tried marijuana in college and saw dollar signs. A born salesman, he began dealing to fellow college students in the early 1970s.
By the early 1980s, he had built a $100 million a year smuggling operation, and a cocaine addiction. His narcotics racket took him around the world to places such as Bogota, Columbia and Montego Bay, Jamaica.
O'Dea had some successful multimillion dollar deals, but more often than not, rip-offs, double-crosses, getting wasted and waiting characterized the operations.
High is Brian O'Dea's memoir of dealing drugs, doing time, and seeking redemption.
Excerpt: 'High'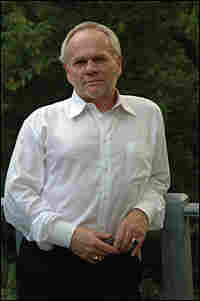 Note: There is language in this excerpt that some readers may find offensive.
"Brian," said Gary, the good cop, "we're going to have a couple of people come down here. Do you mind?"
"No, no. Knock yourself out."
They got on the radio, and in two minutes there were eight cops in my apartment on the side of the hill in the Riviera district of Santa Barbara. They started to tear my place apart right away.
I asked to go to the bathroom. They checked it out and said, yeah, go. I shut the door, and after a minute I had a terribly thorough bowel movement. I flushed and imagined following it down, down, and out, out of everything that was happening here.
There was a knock on the bathroom door. "You still in there, O'Dea?"
"Oh yeah."
"Just about done, are you?"
"Oh yeah."
I had a glassed-in pool room out on the deck that overlooked the town. This Gary guy and I went out there. "I guess you must have thought we'd never come," he said. "I mean, you working in hospitals with dopers and all."
"Listen," I explained. "I've got nothing to say. Honest to God, I don't. I've got absolutely nothing to say. Please don't try to trick me into answering questions. But you know what? I'll just talk to you. We'll talk about the weather, about sports, about girls, about drinking. We'll have a game of pool, and we'll let them do what they need to do. That'll be fine."
Gary drank a beer and we shot pool and talked. Weather, sports, girls. The crew was there for a few hours, and they finally found my storage shed receipt. I had a storage shed in downtown Santa Barbara, and they said they had to go down and search it, and oh, by the way, they weren't going to arrest me that day, but I should get ready because they'd be coming back to get me someday soon. There was an indictment coming for me, so I should be prepared.
"Fine," I said.
"Oh, and by the way," said Doug, "this woman right here, Sergeant Smith, she's with the Santa Barbara County Police. Soon as we're done at your storage shed, she's going to arrest you and take you to Santa Barbara County Jail."
"You can't do that," I said. "That county jail is known to be one of the worst places on the planet." Doug smiled. "It seems, O'Dea, you owe a fine of $500 for driving without a license."
"Jeez. I forgot about that. What can I do about it, guys?"
"Talk to Sergeant Smith," Gary suggested.
Sergeant Smith came over. She was a nice-enough-looking woman, small, dark-haired. I recommended she overlook this peccadillo.
"No," she said. "I got to take you there and fingerprint you and book you, but if you pay the fine then and there, you can leave right away."
I phoned my girlfriend, Susannah, a textile designer I'd met only recently. She worked nearby. Susannah didn't know a whole lot about my life. She did know I'd had a life.
"Honey, can you come down to my storage shed?"
"Hmm. Well, I suppose so, yes."
"And would you mind grabbing $500 from the bank for me on your way? Be down there in, say, about five minutes."
"Okay, Brian," she said. "I'm working on something, but I'll meet you there in about forty minutes."
"Susannah, honey, uh... I can't tell you how important this is. The police are here with me, quite a few of them, and I'm going to my storage shed. Meet me there in five minutes."
In five minutes, Susannah pulled up. Eight cops and I were standing outside the storage shed.
"Oh, Jesus," she said. She handed me the money and got back in her car.
They ripped my storage shed apart, and then I hopped in the back of a Santa Barbara County Sheriff's car and went and got booked and paid $500 and got out.
Everybody said I should flee the scene.
"Run for it, Bri," they said. "Go, baby."
In fact, I couldn't run anymore. One guy I knew had been in the Bastille Day Parade in Paris when he was picked up by the DEA and Interpol. Another friend of mine was arriving from the South Pole, pulling into the southernmost port in Chile, just getting off his boat. The DEA were waiting for him on the dock. There was nowhere to go, not a safe place in the world for people like me. Anyway, that wasn't why I couldn't run. What was I going to do instead? Sober as I was, I couldn't go back to dealing. Anyway, that wasn't why I couldn't run. I just couldn't run. This was my chance to get this thing done. I had to get it done with. This shit had been crawling all over me for years, even though it hadn't been showing its face.
High by Brian O'Dea excerpted with permission from BlueDot Literary, LLC.