For Some, Work Seems Never-Ending
Do You Know A Cheap Place To Retire?
Maybe you have an international retirement story of your own or you disagree with the list above. Let us know in the comments here.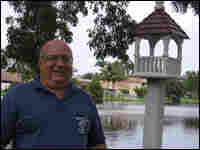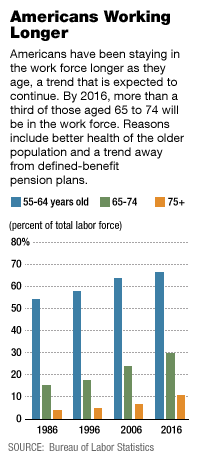 Retirement Calculators
Our weeklong series on All Things Considered began on June 1 and includes:
An examination of the 401(k) model
Conversations with people in their 40s, 50s and 60s about their retirement plans
An expert who will respond to your questions
A look at the state of Social Security
A snapshot of what retirement looks like for people in rural communities
With the recession, many Americans are postponing their retirement. A recent Pew Research Center survey found that more than half of workers age 50 and older have considered delaying their retirement. And more Americans age 65 and older are working than ever before.
Even for those who are well-off, retirement is becoming a luxury many feel they can no longer afford.
At first glance, Robert Brindley would seem to be living the perfect retirement. At 68, his health is good. He lives with his wife, Pixie, in a beautiful lakefront home in Davie, Fla., near Fort Lauderdale. And his woodworking workshop is a hobbyist's dream.
Brindley wears aviator glasses and has less hair than in the heyday of his career as an engineer and transportation planner. He worked at the Los Alamos National Lab, on the NASA space program, on high-tech transportation projects and on Boston's Big Dig.
But although he's expert at planning big projects, Brindley says, when it came to his retirement, he miscalculated.
"And, it became apparent that the money that we had set aside was not going to be enough to really retire on," Brindley says. "We tried to trim down expenses, live on a budget, things like that. We were doing OK, but when you looked at how long we would live, we had underestimated that and how much time the money would give us for that."
Brindley says he and his wife realized that one of them would have to go back to work. And for a few years, he took a job as a traffic engineer.
But then, the recession hit, Brindley's company cut half its work force and he lost his job. That was bad enough, but his layoff came last fall — about the same time the stock market went into free fall. Brindley would rather not say how much of his and his wife's nest egg was lost — only that it was a significant amount.
He's getting unemployment compensation, but Brindley says now it's clearer than ever that he has to find a new job.
"We put ourselves on a really tight budget," he says. "And we have been able to live on our Social Security and the unemployment. If we didn't have the unemployment, we'd be in a hole."
Brindley now is looking for a top-level job as a corporate strategic planner. If his unemployment runs out before that job search pays off, he says he'll have to lower his sights and take a job that will help pay the bills. The problem with retirement, he says, is that your income is fixed, but your expenses are not.
Brindley says all of his and his wife's retirement savings are now in CDs — safe but yielding little income. He's not convinced yet that the markets have settled down enough for him to even look at low-risk funds. Planning for retirement is difficult enough, he says. The recession and recent financial turmoil have raised the stakes.
"It's very, very sobering and very scary," he says. "And, when you look around at other people you're responsible for, then you say 'Wow, I should have given more time to that, more thought.'"
Brindley says he has friends and neighbors who are happy in their retirement, but also a large number who, like him, want to keep working — and the need for more income is a big factor.
That's been the case for years. According to the Bureau of Labor Statistics, the percentage of people age 65 and older who are working has steadily risen over the past 20 years — and it's even higher for women than for men.
Brindley believes the current recession may accelerate that trend.
"It's putting a lot of pressure on those people that have a fixed income, it really is," Brindley says. "And I see a lot of strain and stress, tremendous stress on people who are really too old to have that kind of stress. They wanted to retire to get away from that. And now it's following them and camping on their doorstep."
Brindley says he finds work fulfilling, and that's a good thing. Given the need to rebuild his and his wife's retirement savings, he says he'll keep working as long as possible — probably until his health gives out.