Rural Layoffs: Losing A Grip On Retirement
Rural Layoffs: Losing A Grip On Retirement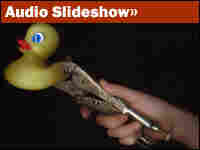 DeWitt Historical Society and Howard Berkes/NPR
Our weeklong series on All Things Considered began on June 1 and includes:
An examination of the 401(k) model
Conversations with people in their 40s, 50s and 60s about their retirement plans
An expert who will respond to your questions
A look at the state of Social Security
A snapshot of what retirement looks like for people in rural communities
Randy Badman thought he was set for life. After all, he was born and raised in DeWitt, Neb., home of the plant making Vise-Grip locking pliers.
Vise-Grips were invented in a blacksmith shop in DeWitt in the 1920s, and in past years the plant had more jobs than the rural town of more than 500 had people to fill them.
"It brings back a lot of memories here I planned on retiring here," says Badman, 60, standing outside the cavernous and empty metal plant on DeWitt's Main Street. "A lot of us that got laid off did."
The layoff came in January 2005, after Badman had been making Vise-Grips for 36 years. He started in the tool and die shop in his 20s and was the tool shop supervisor when he and other managers were let go.
Close to five years later, in October 2008, the last 300 workers were given pink slips as the plant closed. Irwin Industrial Tools moved Vise-Grip manufacturing to China.
Since the Vise-Grip layoff, Badman has worked two other manufacturing jobs in the region, but both also ended in layoffs. At the same time, Badman's 401(k) retirement account lost 40 percent of its value.
Having experienced three layoffs in four years, Badman says, "If you have any kind of savings you tend to use those up and you get to the point where you don't have anything anymore. And that's kind of a scary feeling."
Badman illustrates a trend in rural America. Manufacturing has been a big part of the rural economy, bigger than agriculture, but plants began downsizing and shutting down long before the current economic recession.
Now it's getting worse, says Ernie Goss, an economist at Creighton University in Omaha, Neb.
"Small manufacturers have really been hit hard by this economic downturn," Goss says. "They have done some outsourcing [and] moved to other countries. That's really affecting rural areas."
Hard To Find Other Jobs
Rural factory workers like Badman don't have many other options because the manufacturing slowdown is widespread and there are fewer employers in rural areas to begin with. That's been Badman's experience as he searches for work.
"Right now, the job market, especially in manufacturing, is extremely difficult to find another job," he says.
That has forced him and his wife, Marge, to rethink their retirement plans.
"It changed them, obviously," Badman says. "Some of the plans you have for retiring, you just have to set them aside because right now, everything is up in the air."
Badman had hoped to retire in from two to five years, but now he needs to work longer just to get to retirement — and to make sure his retirement funds last.
Worries About An Exodus From Rural Villages
The competition for jobs increases as economically stressed retirees return to the work force and older workers like Badman put off retirement.
Driving long distances to work is one option. Badman has already commuted 100 miles a day and is willing to do it again. Long commutes are common in rural places.
Moving to find work is another option. The Badmans resist that because they've spent their entire lives in DeWitt and are active in the community. Randy chairs the DeWitt Village Board. He's the equivalent of the mayor, and he and other officials are concerned about a tax and brain drain on the village if he and others close to retirement are forced to leave.
That's already a major problem in many small towns, notes economist Goss.
"The burden of the infrastructure costs is spread among fewer and fewer individuals and fewer and fewer families," Goss says. "If every one of those retirees could take a chunk of the infrastructure with them, [which] would not have to be paid for by those who remain, you'd be OK. But, you've got schools, the sheriffs' departments, the county court clerk. All these are affected by this. It's not a small thing."
Rural hospitals and other medical services could be affected by an exodus of the nearly retired, as they take their insurance and Medicare payments with them.
Frustrations Over Wooing Another Employer
Badman is part of an effort to find another company to move into the Vise-Grip plant. But he is competing with hundreds of other rural communities at a time when fewer companies are expanding or moving.
"Right now, it's a difficult time with the economy," Badman says. "All companies are cutting back."
Economist Goss says he expects that to improve, "but it's hard to tell a person who's over 50 years of age, 'Well, just hang on for another 5 to 10 years. It'll get better.' "
In the midst of the frustrating job hunt, and the frustrating efforts to find another big employer in DeWitt, Badman seeks solace on his back porch, where he is replacing a deck. Drilling screws into new planks helps relieve the stress of a life plan gone awry.
"Timing in life is everything, isn't it?" Badman asks.
"Sometimes you have good timing and sometimes you have my timing," he adds with a hearty, but wry laugh. "And, right now, my timing's not so good."